Colin Chinnery: the journey to record Chinese sounds
2022-09-23 Ecns.cn Editor:Zhang Dongfang
(ECNS) -- Sound artist Colin Chinnery has been collecting sounds from across China for the past 10 years. Speaking with a Beijing dialect, he has moved his sound museum to a new location of 6,000 square meters in Songzhuang Town, east of the capital.
Chinese philosopher Confucius said, "At fifty, I knew the decrees of Heaven," but Chinnery, in his fifties, is still busy and anxious about the unknown tomorrow. The new sound art museum to open this fall is where Chinnery will start his new journey of recording Chinese sounds.
Sound museum expanded 1,000 times
Chinnery launched a project for the Shijia Hutong Museum in 2017. The six-square-meter sound exhibition is where he started working with sound for himself. The small project will be replaced by a 6,000-square-meter Sound Art Museum.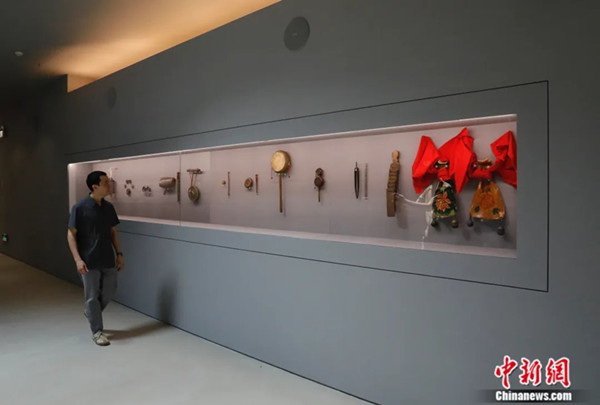 Qin Siyuan at the Sound Art Museum at Songzhuang Town, east of Beijing. (Photo/China News Service)
Chinnery has assigned his efforts to various issues, including the design of the museum, exhibition planning, visitor reaction, the museum operation, and more.
"There is so much unknown when you try something new that you have to grope for solutions and get over your anxiety," said Chinnery.
Compared with the previous sound project, the Sound Art Museum is richer in exhibits displayed under six themes, for example, sounds of old Beijing, language and music, principles of sound, and sound and sensibility.
A dazzling array of old articles from Beijing have been put on display in one of the exhibition halls, with several types of pigeon whistles of different sizes and voices included.
In Chinnery's eyes, the sound of pigeon whistles is the start of his journey of collecting Chinese sounds as well as distinct to Beijing
Recording Chinese life and culture
How would Chinnery describe "the sound of China"? In his eyes, there's no such thing as "a Chinese sound" because China is an enormous country.
In addition to Beijing where he has long lived, Chinnery has also explored other parts of China, including southwestern mountainous areas and Taiyuan City in Shanxi Province, and collected five to six hundred sounds, among which those from Litang County in southwest China's Sichuan remain fresh in his memory.
Chinnery first set foot in Litang at an altitude of about 4,000 meters in July 2019 to collect the sounds of local life and culture for Litang Himalayas Sound Museum. Though he only stayed here a week, he gained a lot with the help of local inhabitants.
Here, he was often seen by local villagers with headphones on and a microphone in his hand walking through the long corridors of temples to record the crisp sound of prayer wheels.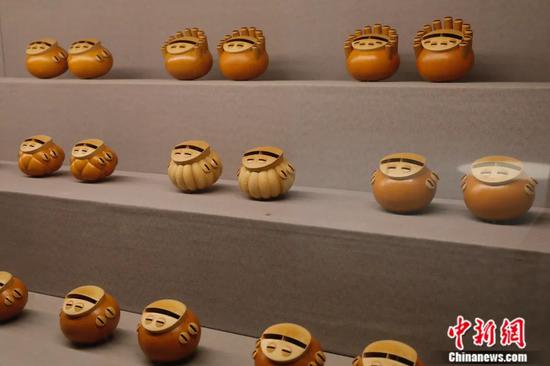 Pigenon whisltes at the Sound Art Museum in Songzhuang Town, east of Beijing. (Photo/China News Service)
Amid farmland, he persuaded shy local villagers to record their folk songs accompanied by the sound of harvesting medicinal herbs.
Simple and natural singing has been integrated into the environment, said Chinnery.
At a wedding, a group of Tibetan men used bottles as microphones to sing joyful toasts in front of Chinnery's camera.
What the artist has recorded is not only sound, but Chinese culture and life.
Power of listening: sound of sky burial
Sky burial, the most popular and dominant funeral custom in Tibet, is another sound that Chinnery wanted to record during his Litang trip.
But things didn't go well even though he had planned his recording. Only on the last day of his trip did he manage to attend such a burial.
"I couldn't expect to witness such a burial so I thought I had to forget about it," he thought at first.
Unexpectedly, he received a phone call, informing him of a sky burial, which he recorded in full.
Chinnery believes the sound of such a special burial is like a letter that would never be opened.
They couldn't be used for just any purpose, but could be preserved like an archive for people to discover, he said.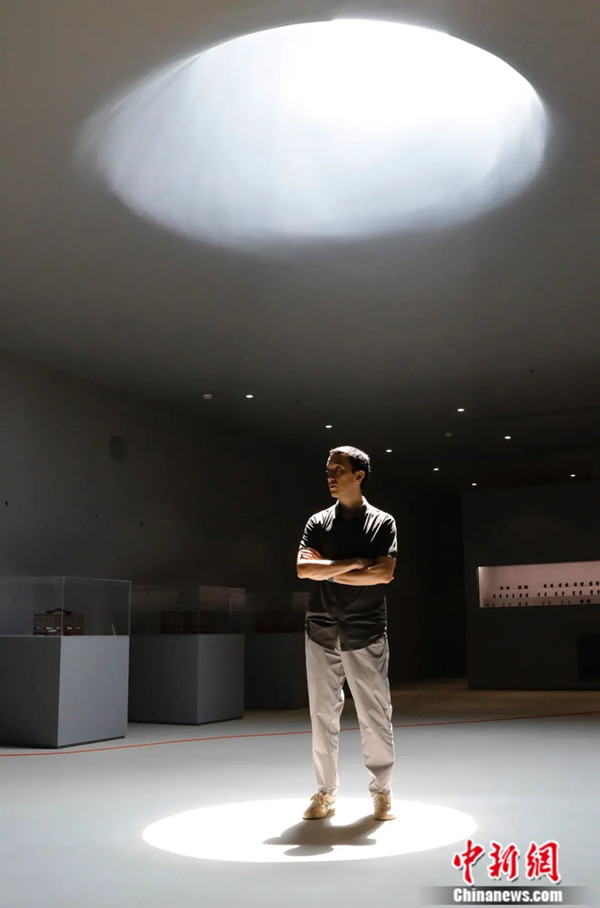 Qin Siyuan. (Photo/China News Service)
A man-made time tunnel to experience ancient China
Recording sounds is not an art at all, said Chinnery, adding that he typically creates sounds for exhibitions with different themes and sites.
Chinnery has taken his sounds to many exhibitions as contemporary art prospers in China in recent years.
He is particularly proud of a sound work created for an exhibition with the theme of original sounds of Taiyuan held by Changjiang Art Museum in the city during July 2021.
In this work, Chinnery invited specialists in Shanxi literature and Chinese historical linguists to read classic parts of selected western classic literature from the Tang to Qing Dynasties by imitating sounds of corresponding times. Besides, he chose a patio-like space in Taiyuan in order to better present the work.
When asked how the idea of using ancient sounds to represent Shanxi came to him, having been born in Edinburgh, he said he was inspired by a lecture about Shanxi culture.
"There were many literary giants in history in Shanxi and it would be terrific if I could recreate their voices," said he.
Continuously discovering for Chinese sounds
When Chinnery reproduces sounds that have disappeared or are disappearing, such as a hawker cries at the gate of his yard and the tick of taximeters, he is reminded of home.
Chinnery came to Beijing with his mother in 1979 when the city barely had high-rise buildings and looked more like a big village. He has lived here most his life and has witnessed the city change over time.
"I've been in China on and off since 1979, almost every year, I've been either living here or visiting," said Chinnery.
"Beijing is really home for me," he added.
Chinnery said new sounds are always replacing old ones across the world. When recalling the sounds he has recorded, he said frankly that there's no such thing as a good or a bad sound in a certain sense.
"If you're in the countryside and you have no electricity, the sound of an electricity generator could be wonderful," he explained.
The man hopes his work could provide more clues toward treating these sounds and the gains and losses behind them in the face of the continuous impact of modernization.
The final preparations for the Sound Art Museum are underway as the autumn begins, and Chinnery will start his new journey of recording Chinese sounds here.
Except for recording sounds, Chinnery will also plan more diverse, creative and immersive sound exhibitions for visitors.
"We very much want this new form of institution, the Sound Art Museum, to be a direct kind of communication with a public who want to experience new things, you want to learn new things, and we want to be part of that process," Chinnery said.