Man missing for 17 days after Sichuan earthquake sent to hospital
2022-09-23 Ecns.cn Editor:Zhang Dongfang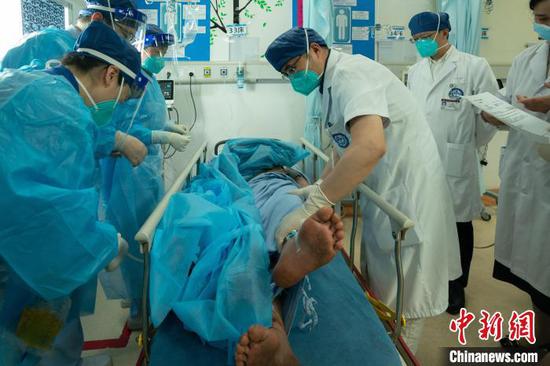 Hydropower station employee Gan Yu is sent to hospital on Sept. 21, 2022. (Photo/West China Hospital at Sichuan University)
(ECNS) -- Hydropower station employee Gan Yu was found alive after being missing for 17 days following a 6.8M earthquake in Sichuan Province. He was sent to West China Hospital at Sichuan University on Wednesday.
Gan was found suffering from multiple soft tissue contusions, rib fractures, fibula fractures of his left lower limb, and severe infection.
He will undergo targeted treatments to correct his internal injuries after further diagnosis.
On Sept. 5, when the earthquake struck Luding County, Gan and his colleague chose to remain at their posts at the Wandong hydropower station to help villagers. His colleague was rescued on Sept. 8.
Gan survived for 17 days by drinking ravine water and eating wild fruits.