Boundary line of China's Northeast Tiger and Leopard National Park exceeds 4,000 km
2022-09-21 Ecns.cn Editor:Zhang Dongfang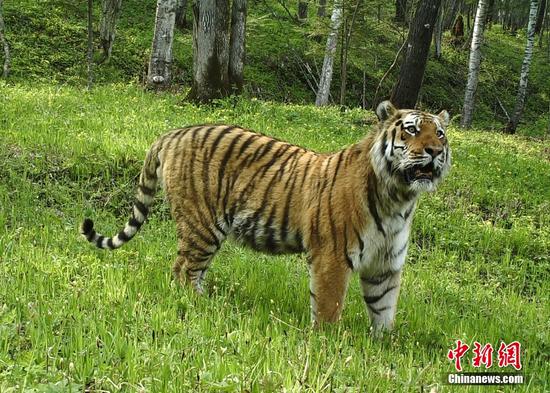 Photo shows a wild tiger captured by a camera at the Northeast Tiger and Leopard National Park. (Photo provided by the administration of the Northeast Tiger and Leopard National Park)
(ECNS) -- The total boundary line of the Northeast Tiger and Leopard National Park in China was determined at 4,156.70 kilometers after demarcation, said the administration of the park.
Located at the junction of Jilin and Heilongjiang provinces in China with a total area of 14,065 square kilometers, the park is home to 110 wild tigers and leopards.
In addition to protecting wild animals, the park administration is also in charge of managing the natural resource assets in this domain.
It is beneficial for the protection of the park's ecosystem and also a necessary means to coordinate the protection of ecosystem with economic development, experts say.