China to identify 88 Korean War martyrs through DNA testing
2022-09-16 Ecns.cn Editor:Zhang Dongfang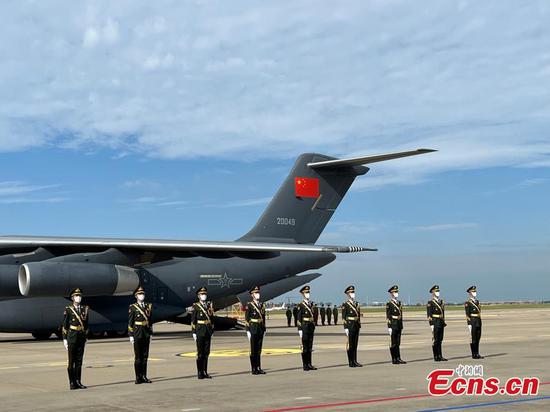 Chinese soldiers wait to receive coffins containing remains of 88 Chinese soldiers killed in the 1950-53 Korean War from South Korea during a handover ceremony held at Incheon International Airport, South Korea, Sept. 16, 2022. (Photo: China News Service/Liu Xu)
(ECNS) -- China is to identify 88 unknown Chinese People's Volunteers martyrs killed in the 1950-53 Korean War using DNA technology, the Ministry of Veterans Affairs said Friday.
The remains of 88 soldiers were carried back by a Y-20 transport aircraft from South Korea's Incheon International Airport on Friday.
Based on historical data, analyzing and studying n belongings of martyrs is one way to confirm their identity.
It is one of the most direct methods with a high success rate to identify unknown soldiers by personal seals and belongings carrying identity information, but this is a rare case, said Li Zhongshui, director of the remains search and identification center of the Ministry of Veterans Affairs.
Staff tend to confirm their identity through the rule of the same sacrifice time, place, and army according to the location of the remains, Li said.
China established the first DNA database for martyrs of the Chinese People's Volunteers Army on July 20, 2022 for identification purposes.
So far, South Korea has returned the remains of 913 Chinese People's Volunteers martyrs killed in the Korean War. Among them, 10 have been identified and found their relatives so far.