107-year-old Covid patient discharged from hospital in Hainan
2022-08-25 Ecns.cn Editor:Zhang Dongfang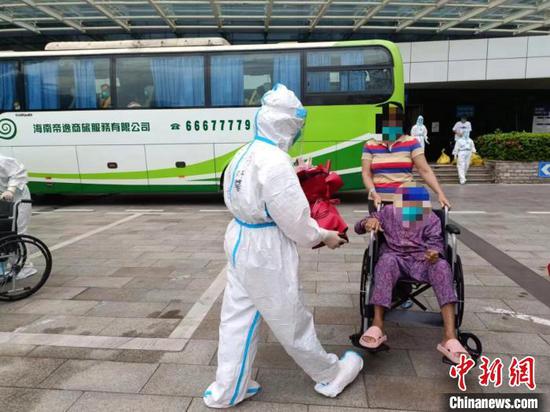 Huang, who is 107 years old, is discharged from hospital in Haikou, Hainan Province, Aug. 24, 2022. (Photo/China News Service)
(ECNS) -- A 107-year-old patient infected with COVID-19 was discharged from hospital in Haikou, Hainan Province on Wednesday.
The woman surnamed Huang is the oldest patient in Hainan to have completely recovered.
Huang tested positive on Aug. 14 and was confirmed as a mild COVID-19 case. Together with her granddaughter-in-law, who also tested positive, she was sent to Haikou for treatment.
Medical experts customized a diagnosis and treatment plan for Huang and provided meticulous care to cope with the possible escalation of her condition.
Although 107, she hadn't suffered from other diseases. She was able to walk on August 20 after treatment, said Feng Ting, head nurse of the ward where Huang recovered.
"Grandma Huang is close to her granddaughter-in-law. She speaks a dialect so the diagnosis and treatment had to be translated," said Feng.
Huang is in good condition now. Both she and her granddaughter-in-law tested negative twice and were qualified to leave the hospital.
A total of 74 COVID-19 patients were discharged the same day.