Papercutting attracts foreign internet celebrities to Ordos
2022-07-29 Ecns.cn Editor:Mo Hong'e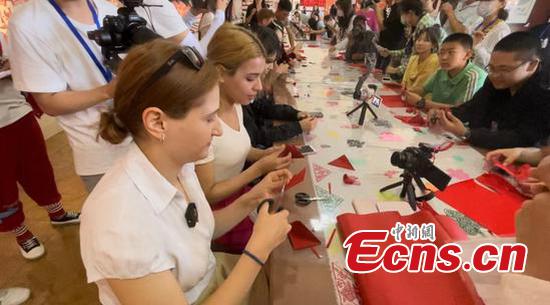 Foreign internet celebrities learn papercutting from Zhao Meling, July 27, 2022 (Photo: Ecns/Zhang Dongfang)
(ECNS) -- More than a dozen foreign internet celebrities from Britain, South Korea, Brazil, Thailand and other countries attended a traditional Chinese papercutting class at a museum in Dalad Banner, Ordos City, Inner Mongolia Autonomous Region.
Zhao Meiling, nicknamed Scissors Zhao, showed the foreign learners how to cut basic patterns for window decorations during the 40-minute class.
Zhao has been engaged in papercutting for more than 30 years since she began to learn the art when she was eight. She has won more than 120 prizes, with works exhibited abroad many times.
In 2014, she was selected as the representative inheritor of the paper project on Inner Mongoliaintangible cultural heritage.
Series works she has cut together with her apprentices present Chinese history from ancient times till today, including the improvement of farming tools with a total length of about 500 meters long.
The exquisite works displayed in her papercut-themed museum have greatly impressed foreign internet celebrities.
"This is a rare opportunity to learn about Chinese folk art papercut. Zhao is very creative and I admire her a lot. Chinese culture is profound and has a long history," said Safa Taboubi from Tunisia.
Except for papercutting, the foreign internet celebrities have also learned to make dough figurines during this activity.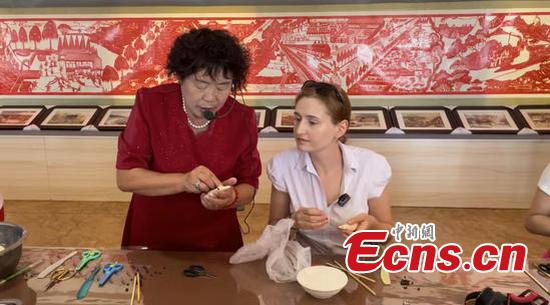 Tamar Kvlividze (R) from Georgia learns making a dough figurine from Zhao Meling, July 27, 2022 (Photo: Ecns/Zhang Dongfang)
Zhao also trained unemployed women and villagers nearby to learn papercutting techniques for free, helping them increase their income.
As for inheritance, Zhao hopes to promote her papercut skills and let more people learn and protect this traditional Chinese culture.
With a history of more than 1500 years, papercutting originated from ancient China's Northern and Southern dynasties (420-589) and prospered during the Ming and Qing dynasties (1368-1911).