Shankar Koirala: A 'Herculean' volunteer in the community
2022-05-11 Ecns.cn Editor:Mo Hong'e
By ZHENG Yingying
(ECNS) SHANGHAI -- Shankar Koirala, a 29-year-old Nepalese, speaks fluent Mandarin, though he cannot read Chinese. Previously, he owned a shop in Nepal, where 80 percent of customers were Chinese. So he could practice his Mandarin very well.
Recently, he started volunteering in a closed-off management area on Fenglin Road in Shanghai's Xuhui District, helping to deliver supplies. At the beginning of the lockdown, there was not enough manpower in the community,so they recruited volunteers. Shankar was at home alone and went to sign up when he saw the need. At first, he was worried: "I am a foreigner and I can't read Chinese. Will it be inconvenient to them?"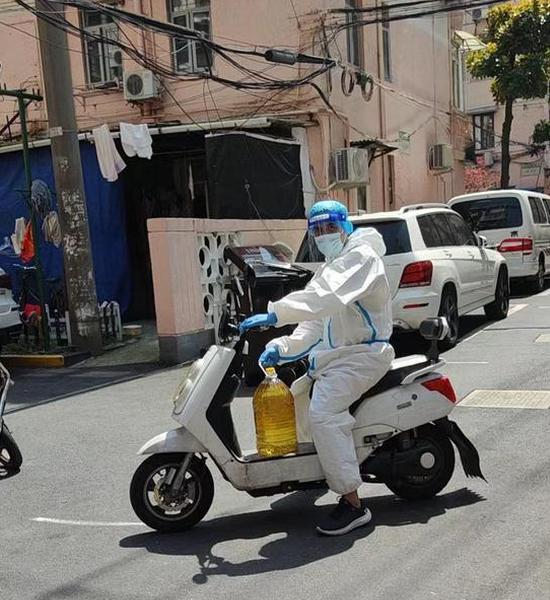 Shankar Koirala serves as a volunteer in Shanghai. (Provided by the interviewee)
His worry was superfluous, and before long, he was revered as a "Hercules" in the community.
On April 21, when the ECNS reporter first contacted Shankar online, he replied in English, "I am unloading food, I will call you later." The second time, he had just finished dinner, but was about to go out again to carry things. The third time, it was nine o'clock at night, and he almost finished working.
"During a day, we received five truck loads of government supplies, chicken, pork, vegetables and laundry detergent," he said.
One load usually contains more than 2000 boxes, and requires 7 to 8 people to unload it. He said that when he first started doing volunteer work, his whole body was hurting and he was very tired after moving so many things. He gradually got used to it after he has been doing it for about 20 days.
He also gets headaches easily in the sun, but he chooses to take painkillers, sleep and get back to work, "because we have a lot of buildings under lockdown, and we don't have enough people, especially young people."
He says volunteers need to get supplies to residents' homes at a fast pace each time."Especially perishable food will go bad if we don't deliver it promptly. So no matter what, we must persist."
In Shankar's eyes, Nepal and China are close neighbors. He said that Nepal is a tourist destination, with the largest number of tourists originating from China. Chinese tourism greatly benefits local shop owners.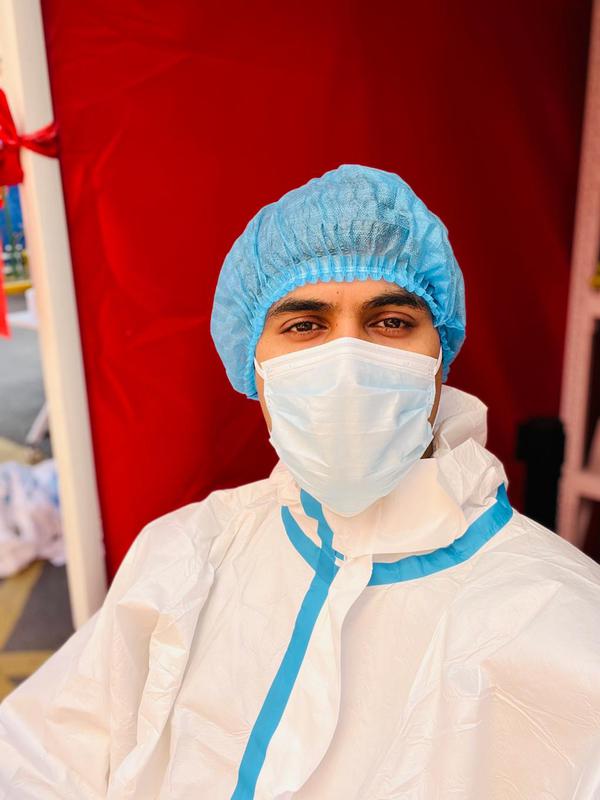 Shankar Koirala serves as a volunteer in Shanghai. (Provided by the interviewee)
Shankar also recalled how quickly China responded with aid in the aftermath of the 2015 earthquake in Nepal. He remembered that China was the first country to arrive with supplies and aid." We Nepalese people were especially grateful to China, which was the first country to respond at a time of great need." He said.
He said that as he is now living in China, he should lend a hand in Shanghai, he regards this as his duty."I also live here, and I hope the city gets back to normal quickly."He said.
Shankar has been in Shanghai for almost 3 years. Shankar's Nepali Arts and Crafts Company participated in the second CIIE in 2019. After the trade fair, Shankar stayed in Shanghai. In recent years, in addition to the original work at the arts and crafts company, he also opened a small trading company in Shanghai, and is now operating two shops, selling Nepalese cashmere scarves, Nepalese Thangka, etc.
He gradually integrated into the city and got used to eating Chinese food. He started cooking his own braised pork and stir-fried potatoes,which he shared on his WeChat Moments.
The latest COVID-19 outbreak has impacted his business as he may have to close one of his shops,"Then I will travel to Yunnan for a few days, and have some leisure time." When the epidemic is over, Shankar wants to go back to Nepal to see his family, and then return to Shanghai to continue working."I like Shanghai. It's good here."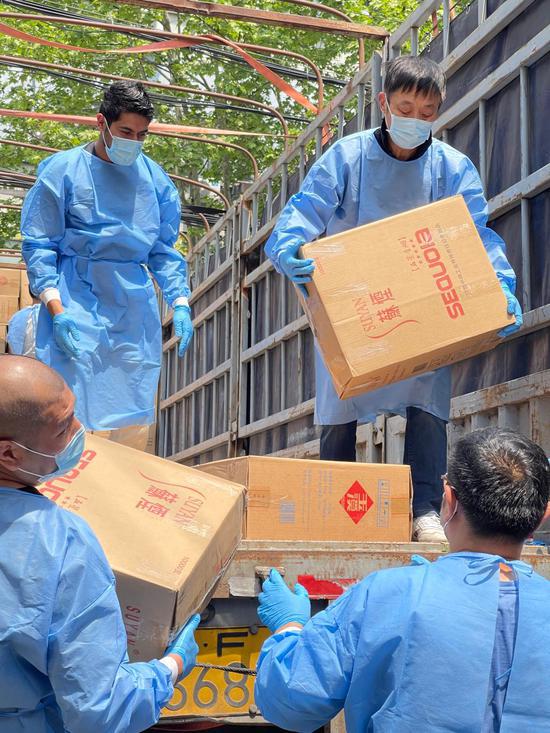 Shankar Koirala and his co-volunteers work in Shanghai. (Provided by the interviewee)