UN Chinese Language Day: A better understanding of China
2022-04-20 Ecns.cn Editor:Zhao Li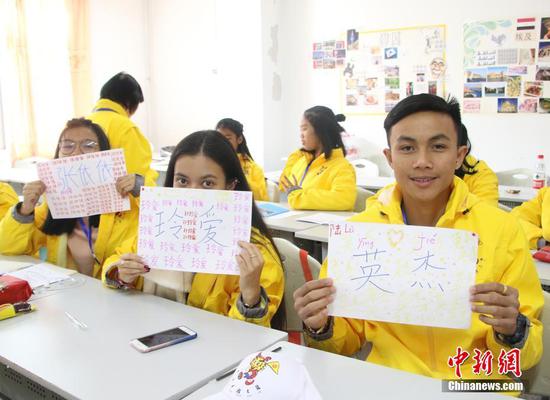 International students learn Chinese language. (File photo/China News Service)
(ECNS) -- April 20, 2022 marks the 13th UN Chinese Language Day and also Guyu (Grain Rain), the 6th of 24 solar terms, in tribute to Cangjie, claimed to be the inventor of Chinese characters.
UN Chinese Language Day is no longer a day only celebrated by the UN, but by many Chinese learners and institutions majoring in Chinese education.
More than 300 embassies and consulates, Chinese educational institutions and enterprises from over 100 countries now hold a variety of activities ranging from exhibitions to lectures to celebrate the day, highlighting the charm of Chinese language and culture.
Data from the Center for Language Education and Cooperation in China showed that by the end of 2021, more than 1,500 Confucius Institutes and Confucius Classrooms had been established in 159 countries, teaching more than 13 million students. Seventy-six countries have included Chinese in their national education systems by issuing decrees, more than 4,000 universities have established Chinese faculties, majors, and courses, and over 75,000 mainstream primary and secondary schools, Chinese schools, and training institutions have opened Chinese courses.
Giulia Falcini is an Italian engaged in Chinese book translation. "After the book I translated was published, many college students contacted me and said they had decided to write a graduation thesis related to Chinese culture," she said.
Falcini said that an increasing number of people are learning Chinese in Italy, and many people start learning Chinese from high school.
According to statistics, there are more than 25 million people overseas who are learning Chinese, with the cumulative number close to 200 million.
"Learning the Chinese language, I can read Chinese books observed by the ancients, and experience their spiritual world regardless of time. Only people who know Chinese like me can feel this romance and magic," said 16-year-old Canadian girl Tiantian, who won the championship of the 13th Chinese Bridge (Hanyu Qiao) Chinese Proficiency Competition.
She said she had developed a "sense of mission" to share Chinese stories and culture with more people since then.
As China plays an increasingly vital role in the international arena, Sinology research is becoming a prominent study worldwide, said Liu Shan, an associate professor at Wuhan University.