Xilan Kapu's catcher in the 'Peach Blossom Wonderland'
2022-03-09 Ecns.cn Editor:Chen Tianhao
(ECNS) -- Peace and tranquility permeate Youyang Taohuayuan (Peach Blossom Wonderland) Scenic Area in southwest China's Chongqing. Under sunrise, the sound of sewing strikes up a symphony, with knitting needles and yarn dancing in a weaver's hands.
The weaver, Zuo Cuiping, is the only inheritor of Xilan Kapu, or Tujia brocade, in Youyang County.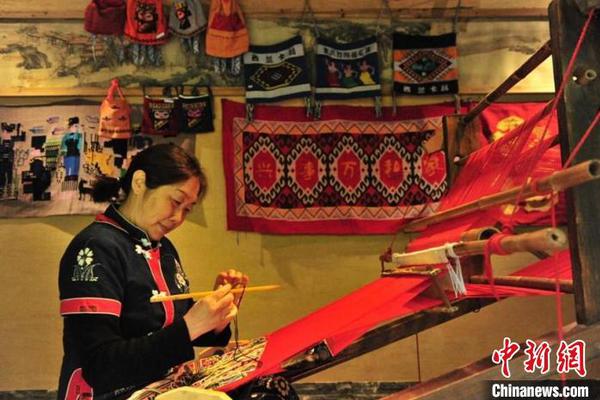 The inheritor of Xilan Kapu in Youyang County of China's Chongqing. (Photo provided to China News Service by Youyang County Publicity Department)
"Xilan Kapu records the traditions and life of Tujia people," Zuo introduces, "Both auspicious customs and ordinary life of Tujia people can be weaved into it, and into my memory."
Born in a village that has generations of history of brocade, Zuo has been learning the skill since she was a child.
Xilan Kapu is unique for weaving colored silk, cotton, and woolen thread (latitudes) into patterns connected by colored cotton threads (longitudes), with the intersecting longitudes and latitudes encompassing stories from across the world.
"There are 12 processes to make a Xilan Kapu," Zuo explained, "So it takes days, or even months, to make one."
To better preserve the ancient craftsmanship, she returned to her hometown in 2008 and established her workshop, devoting herself to the conservation of XilanKapu craftsmanship.
In addition, the local government also supported her efforts by implementing relevant policies for Xilan Kapu training. Now, 30 classes have been given to women in the vicinity, which is expected to improve the local annual income by 200,000 yuan ($31,654).
As Xilan Kapu's Catcher in the "Peach Blossom Wonderland", Zuo is determined to attract more young people to Xilan Kapu, which carries centuries of history.