China-Europe freight train loaded with Spring Festival goods departs Fujian
2022-01-17 Ecns.cn Editor:Zhang Dongfang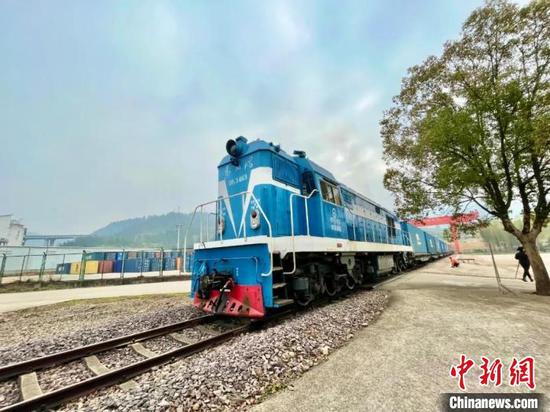 A China-Europe freight train loaded with Spring Festival goods departs Nanping City, south China's Fujian Province, January 12, 2022. (Photo/China News Service)
(ECNS) -- A China-Europe freight train loaded with Spring Festival goods made in China departed Nanping City, south China's Fujian Province on Saturday.
These goods will be delivered to Germany, Russia and other European countries before China's Spring Festival which falls on February 1, 2022.
The train is loaded with 44 Twenty-foot Equivalent Units (TEUs) of goods, 439.341 tons in total, including China-made small household appliances, Chinese-style clothing, etc, valuing $1.78 million dollars.
And next batch of goods waiting to be transported in warehouses by next China-Europe freight train are mainly production and living materials such as ceramics and bamboo products, and supplies for COVID-19 prevention.
A total of 7 tons COVID-19 prevention supplies like masks will help European countries such as Germany to fight against the pandemic.
China will launch four China-Europe freight trains during the Spring Festival and they will deliver China-made electronic and daily-use products and that vital to people's livelihood to European and Central Asian countries.