An invitation to the world of science from a retired professor
2021-11-16 Ecns.cn Editor:Chen Tianhao
(ECNS) -- "Today, let me introduce this Five-hundred-meter Aperture Spherical radio Telescope, also known as FAST, to you!" says Wu Yuren on a video-sharing platform with an iron pot in her hand.
A former professor of physics at Tongji University, Wu, now 72 years old, began popularizing physics on a short-video platform after retirement. In fact, she has been engaged in such efforts for 16 years.
"They like calling me Granny Wu, and I like that name."
In her videos, Granny Wu frequently wears a khaki vest with more than a dozen pockets. Every time she reaches into a pocket, she will take out something interesting, just like Doraemon, a famous fictional character, does.
Although there are still many obstacles and difficulties in popularizing science in the form of short videos, Granny Wu and her team keep innovating to "interpret" complex and obscure knowledge for the public.
Professional gadgets for physics experiments along with common items like toys, toothpicks, and bottles can be utilized by Granny Wu to illustrate obscure physics rationale.
"National construction and development require the improvement of national culture," says Wu, "So we need more deep learning and inspirational popularization."
She can show the trajectory of cosmic rays with a broom and even explain Faraday Cage using a colander and some paper tapes.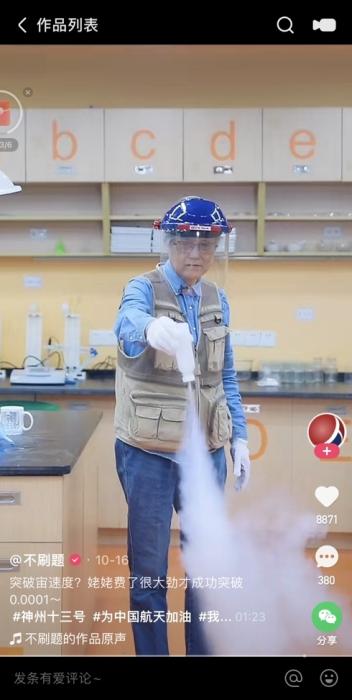 Granny Wu simulates the launch of Shenzhou 13 on a short-video platform. (A screenshot from her video)
Such a form of science popularization has attracted many people, leaving their comments under Granny Wu's videos to show their fondness.
Science popularization is not an easy road for Granny Wu, but she thinks everything is worth it as long as more people can learn about the charms of physics and understand the fun side of science.