First Finance Youth Forum held in Shanghai
2021-10-16 Ecns.cn Editor:Mo Hong'e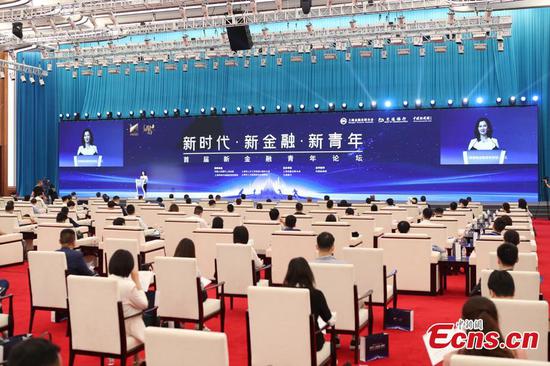 Themed "New Era, New Finance, New Youth", the First Fiance Youth Forum was held in Shanghai, Oct. 15, 2021. (Photo: China News Network/Zhai Lu)
(ECNS) -- Themed "New Era, New Finance, New Youth", the first Finance Youth Forum was held in Shanghai on Friday, with Youth Leadership Program officially launched along with it.
Pan Gongsheng, deputy governor of the People's Bank of China and administrator of the State Administration of Foreign Exchange, delivered a speech at the opening ceremony.
Pan said Shanghai has always been in the vanguard of reform and opening up and is capable of providing a world-class innovation platform for talents. It should continue improving its innovation talent system in science and technology and build platforms for talent exchange, cooperation and sharing, he added.
Wu Qing, vice mayor of Shanghai, said the forum, aimed to cultivate financial talents for the future and promote youth talent communication, is timely held and of far-reaching significance. The launch of Youth Leadership Program would inject new momentum into the financial sector, he added.
Ren Deqi, chairman of Bank of Communications and chairman of Shanghai Financial Association, noted that talents count the most in finance in the new era. He proposed bringing the advantages of financial institutions in funds and information into full play to better attract high-caliber youth talents in finance.
Chen Lujun, president of China News Service, said we are witnessing unprecedented, major changes unfolding in the world, along with the COVID-19 pandemic. The international situation, world economy and financial structure are all undergoing profound changes. In a new era, full of new challenges and opportunities, the major topics on how China's finance can better serve the overall development of the country and how the Chinese youth can better fulfill their mission of national rejuvenation are worth in-depth discussion.
During the Global Champion addresses, guests including Steven Barnett, IMF senior resident representative in China, Howard Marks, founder of Oaktree Capital Management, and Zhu Xian, former vice president of the World Bank, delivered messages to young talents.
During the roundtable dialogues, guests exchanged ideas over topics including global finance development, Shanghai international financial center construction and fintech innovation.
Tu Guangshao, chairman of Shanghai Finance Institute, emphasized two priorities of Shanghai international financial center construction: trying to improve the weak links by accelerating marketization, legalization, and internationalization and seizing new development opportunities, including green finance and digital finance.
Liu Jun, president of Bank of Communications, said what the youth champions might learn in the forum should not be limited to technology, elements, knowledge and information, but include culture memes and ethos that have been passed on from generation to generation.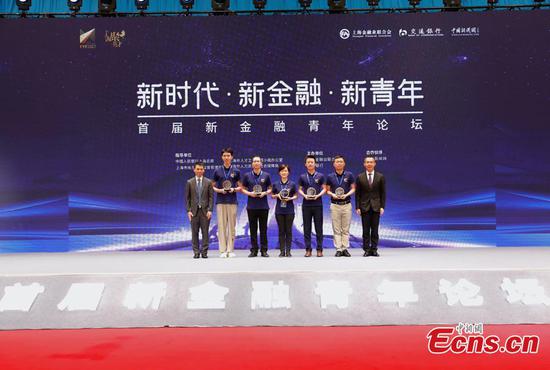 Members of Youth Leadership Program pose for a group photo at the launching ceremony held in Shanghai, Oct. 15, 2021.(Photo: China News Network/Zhai Lu)
The Youth Leadership Program, jointly initiated by Shanghai Financial Association, Bank of Communications, and China News Network, was officially launched at the event. It aims to help implement national key strategies by training youth champions and hatching technological innovation programs.
The first Finance Youth Forum was hosted by Shanghai Financial Association and Bank of Communications, in cooperation with China News Network.
(Translated by Mo Hong'e and Chen Tianhao)