China's first gold panda coin for 2022 unveiled in Shenzhen
2021-09-16 Ecns.cn Editor:Zhang Dongfang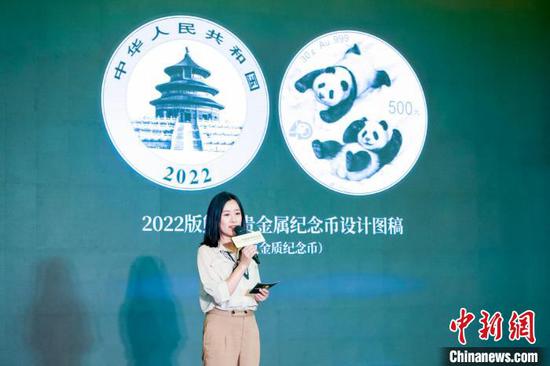 Huang Qin, the designer of the panda pattern, explains her design concept at the launch ceremony in Shenzhen on Wednesday. (Photo provided to China News Service by China Gold Coin Incorporation)
(ECNS) -- China's first gold panda coin for 2022 was cast at the launch ceremony in Shenzhen, Guangdong Province on Wednesday.
China will host the next Winter Olympics in 2022, also the 40th birthday of the gold panda coin.
The 2022 panda coin, which has integrated Winter Olympic elements, depicts two panda cubs playing with snow, showing a kind of innocence and harmony between animal and nature, Huang Qin, the designer of the panda pattern, explained at the ceremony.
As for the logo for the 40th anniversary of the issuance of China's gold panda coins, its designer Qin Sujian said the logo retained the number "40", filled with a vigorous panda pattern. The lovely panda seems to have infinite vitality, expressing good wishes.
China's gold panda coin, issued by the People's Bank of China, is a symbolic precious metal commemorative coin in China, which is suitable for investment and collection.
Its various and artistic patterns have won the coin both a unique position in the world coinage and numerous awards at home and abroad.