98-year-old Chinese kung fu granny always prepared to help
2021-06-22 Ecns.cn Editor:Mo Hong'e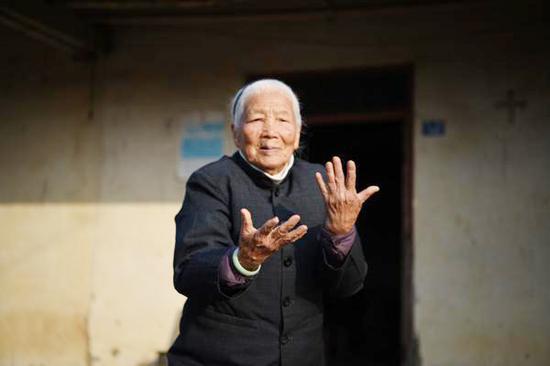 Granny Zhang Hexian practices kung fu at home. (Photo/The Paper)
(ECNS) -- Known as "Kung fu granny", 98-year old Zhang Hexian has practiced the martial art for 94 years.
Born in Dongyuan Village, Ninghai County of East China's Zhejiang Province, Zhang is the eighth-generation inheritor of Zhang Martial Art.
Though nearly 100 years old, she is still in good shape thanks to her diligent practice routine.
"Kung fu Granny" advocates practicing good deeds. "Learning Kung fu is to protect ourselves and help others," she said.
Every afternoon, she would go round the village to see who needs help.
"She is so kind -- she always helps us with everything, big or small," according to villagers, who also call her "chivalrous" granny.
On June 12, she was invited to be chief referee for a martial arts competition in Zhengkeng Village, Dajiahe Town, Ninghai County.
Besides Kung fu, Zhang is also good at midwifery, embroidery and cooking. She wishes more people could enjoy Kung fu and pass it on from generation to generation.
"Kung fu spirit never gets old!" China's Foreign Ministry spokesman Zhao Lijian tweeted while giving her the thumbs-up on Friday.