G7's vaccination aid promise looks like a drop in the ocean
2021-06-18 Ecns.cn Editor:Mo Hong'e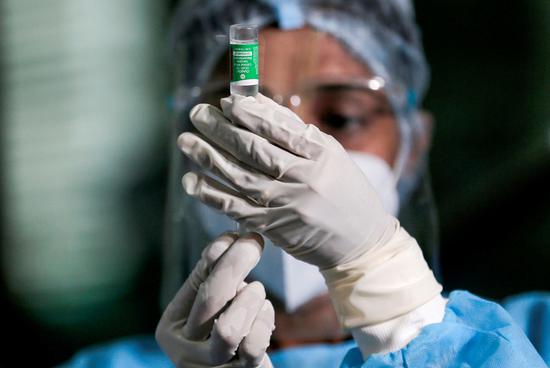 A health official draws a dose of the COVID-19 vaccine at Infectious Diseases Hospital in Colombo, Sri Lanka. (File photo/Agencies)
By John Lee
(ECNS) -- The G7 leaders promised over 1 billion COVID-19 vaccine doses by the end of next year at the summit in Cornwall, England, on Sunday. Nonetheless, in either quantity or speed, the plan is a long way from the 11 billion doses that the World Health Organization has estimated would be needed to vaccinate 70 percent of the world's population by next year. For many coronavirus-stricken countries, the promise looks like a drop in the ocean.
First, there is a huge gap between the G7's promise and the demands from countries around the world. Even by a year from now, this plan could cover only "about 10 percent of the population in low- or medium-income countries", according to the outgoing UN aid chief Mark Lowcock. Therefore, the G7 vaccine pledge cannot establish an immunity barrier, especially for most people who require two jabs.
Second, the G7 completely failed to show the necessary urgency. In the brutal battle against COVID-19, some countries are racing against death, while the limited amount of vaccine can only be completed by the end of next year. The global spread of COVID-19 has outpaced the global distribution of vaccines. At the current pace, it would take low-income countries 57 years to reach the same level of protection as those in G7 countries, according to the international non-governmental aid organization Oxfam.
The virus knows no borders. In the face of spiking COVID-19 infections and constantly mutated strains of coronavirus, the globe should become a community with a shared future. Without a visible approach, this so-called aid is nothing but "self-deluding." As Lowcock said, "These sporadic, small-scale, charitable handouts from rich countries to poor countries is not a serious plan and it will not bring the pandemic to an end."