Chinese medical team to assist Guinea's COVID-19 fight
2020-09-01 Ecns.cn Editor:Gu Liping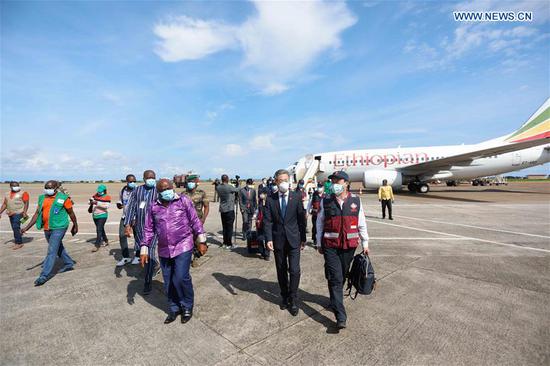 A team of Chinese medical experts arrive at the airport in Conakry, Guinea, Aug. 27, 2020. A team of Chinese medical experts to aid the anti-epidemic fight in Guinea arrived at Conakry on Thursday and will stay in the country for 10 days. (Chinese Embassy in Guinea/Handout via Xinhua)
(ECNS)--A Chinese medical team has arrived in Guinea to help the African nation fight its COVID-19 epidemic, Chinese foreign ministry spokesperson Zhao Lijian confirmed Monday.
The remarks of FM spokesperson Zhao Lijian ran as follows.
China Daily: Last week, you briefed us on the work of a Chinese medical team to South Sudan. We noticed that the team has left South Sudan and arrived in Guinea. Can you update us on that?
Zhao Lijian: Thank you for your continued interest in the Chinese medical teams abroad. This team of experts has arrived in Guinea for a 10-day visit. The 8-member medical team was organized by the National Health Commission and appointed by the Anhui Provincial Health Commission.
On August 29, the team visited the China-Guinea Friendship Hospital in Conakry, capital of Guinea, and discussed China's anti-epidemic experience with experts from the hospital. Sandy Cora Torno, Director of the China-Guinea Friendship Hospital, welcomed the Chinese team and thanked the Chinese government and people for their selfless assistance, and said he looked forward to learning from China's epidemic prevention and control experience. In the next few days, the Chinese experts will make field trips, organize seminars and offer training sessions to share their practical experience with local health authorities and help their counterparts enhance capabilities to handle COVID-19.
China will continue standing with Guinea and other African countries to fight the virus for an early victory.