National security law for HK to benefit citizens and int'l investors: FM
2020-07-03 Ecns.cn Editor:Mo Hong'e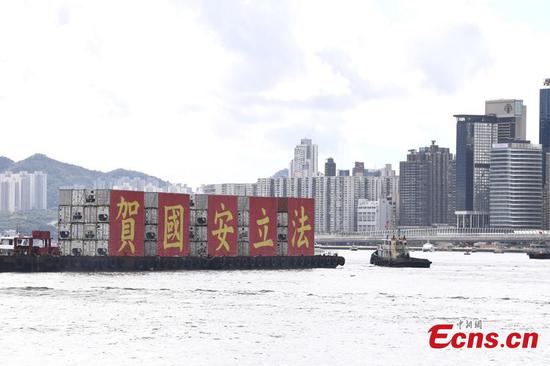 Hong Kong celebrates the passage of the Law of the People's Republic of China on Safeguarding National Security in the Hong Kong Special Administrative Region (HKSAR), July 1, 2020. (Photo/China News Service)
(ECNS) -- The Chinese Foreign Ministry has reiterated that the implementation of the National Security Law for Hong Kong will benefit its citizens and international investors, addressing concerns that it might impact China's relations with other countries.
"It will only target very few criminals but protect the vast majority of Hong Kong people. Its implementation will strengthen Hong Kong's legal framework, ensure social order and improve the business environment," said Zhao Lijian, spokesperson for the Chinese Foreign Ministry.
We have every confidence in the bright prospects of Hong Kong, he added.
The National Security Law for Hong Kong takes into full consideration the realistic needs of safeguarding national security and the specific conditions of the HKSAR. It also sets out systemic and comprehensive provisions regarding a legal system and enforcement mechanisms at both national and SAR levels, Zhao said.
"This upholds the constitutional order in the HKSAR established by the Constitution and the Basic Law and demonstrates the inherent requirements of 'one country, two systems.' The law applies to four categories of criminal behavior that gravely undermine national security," he added.
He further stressed that nobody and nothing can shake the Chinese government's and the people's will to safeguard national sovereignty and security and uphold Hong Kong's prosperity and stability. Any attempt to undermine China's sovereignty, security and development is doomed to fail.
The Standing Committee of the National People's Congress, China's top legislature, unanimously passed the law on Tuesday, prohibiting acts of secession, subversion, terrorism and collusion with foreign or external forces that endanger national security.