Qinghai artist paints with his bare hands
2019-12-26 Ecns.cn Editor:Mo Hong'e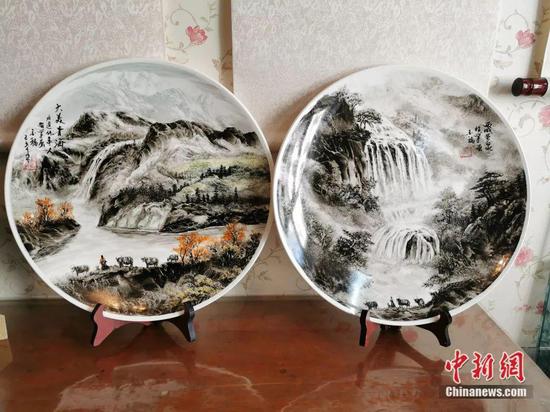 Ma Jinfu's ceramic paintings. (Photo provided to China News Service)
(ECNS) -- Ma Jinfu, an elderly man from Xining City, Northwest China's Qinghai Province, paints on glass and ceramics using his palms and fingers.
An inheritor of the intangible cultural heritage of Xining glass-painting, Ma first learnt to paint on glass from his grandfather at age 12.
The artwork was very popular when he was young but declined with time.
To move beyond the limits of glass, he tried painting on other materials, including ceramics and coated paper.
Using fingers and palms forms only one part of the traditional art, furthering innovation.
Dipped in ink, he draws the vivid texture of mountains and rivers with his palm, the charm of plants and trees with his fingertips, and the details of animals like cows and sheep with his fingernails.
Each painting depicts the artist's love for his hometown, marked by many local features.
His favorite painting is of Tibetan antelope. "These antelope are a precious wealth in Qinghai. They are the best illustration of ecological protection here," he explained.
With his works housed in collections across the world, Ma hopes the traditional craft will be handed down to future generations.
"I want more people to experience the beauty of Qinghai through my finger-paintings," Ma said.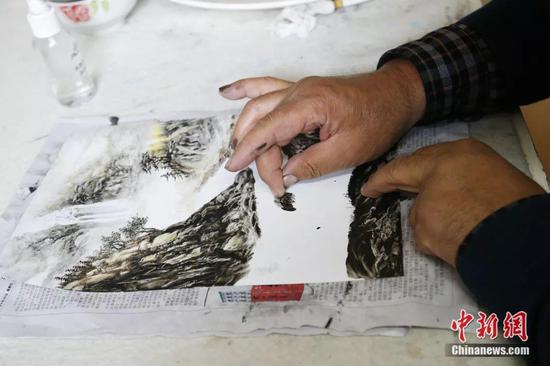 Ma Jinfu's paints on coated paper. (Photo provided to China News Service)