Zoo celebrates birthday for panda returned from Japan
2019-12-24 Ecns.cn Editor:Mo Hong'e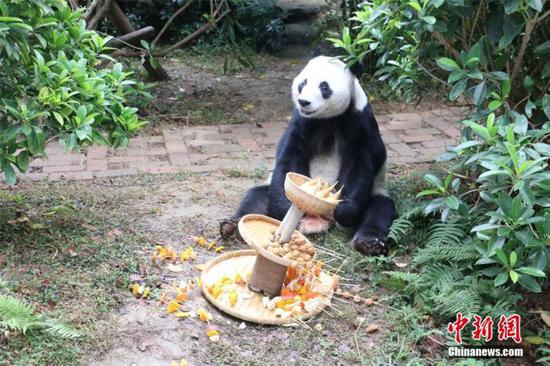 Panda Meihin enjoys his birthday dinner on Dec. 23, 2019. (Photo/China News Service)
(ECNS) -- Meihin, a giant panda returned from Japan, enjoyed a special birthday dinner on Monday at the Liuzhou Zoo in south China's Guangxi Zhuang Autonomous Region.
Meihin was born on Dec. 23, 2006 to Mei Mei and Yong Ming, two giant pandas transferred to Adventure World in Shirahama, Japan under the International Cooperative Breeding Program for Giant Pandas.
Meihin returned to China in December 2012. Every year, fans from all over the world have visited and sent wishes and homemade gifts during his birthday.
Akemi Tanaka, a Japanese panda enthusiast, flew to Liuzhou for the second time to celebrate Meihin's birthday. She said she has made many Chinese friends through pandas.
Liuzhou Zoo has held birthday parties with different themes every year for Meihin, hoping that it will encourage more teenagers to protect pandas and other animals.