Pandas International adopts world's only captive brown giant panda
2019-11-21 Ecns.cn Editor:Gu Liping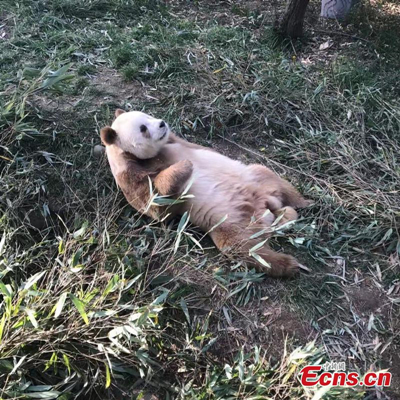 The male brown-and-white panda Qizai (meaning "7th son") is seen at the Qinling research center of giant panda breeding in northwest China's Shaanxi Province. (Photo: China News Service/Xu Guanglan)
(ECNS) - Pandas International, a nonprofit organization dedicated to ensuring the ongoing protection and breeding of the endangered giant panda, has adopted Qizai, "or 7th son," the world's only captive brown giant panda.
The adoption ceremony was held Wednesday at the Qinling research center of giant panda breeding in northwest China's Shaanxi Province.
Qizai was born in 2009 and found abandoned deep in mountainous terrain in the province's Foping County.
Since its establishment in 2000, the Denver-headquartered Pandas International has maintained close cooperation with the Qinling research center, providing the center this time with vaccines, electric generators, laboratory instruments, and other items helpful for panda breeding.
The center granted adoption rights to the organization to show appreciation for its long-term assistance. The adoption is also symbolic because pandas have to stay at the center and it is a meaningful way to help conservation efforts.