Panda twins named Bao Di and Bao Mei at Belgium zoo
2019-11-15 Ecns.cn Editor:Mo Hong'e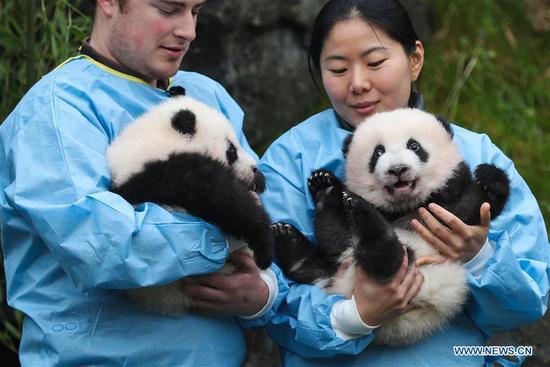 Zookeepers hold the panda twins "Bao Di" (R) and "Bao Mei" at the Pairi Daiza zoo in Brugelette, Belgium, Nov. 14, 2019. (Photo/Xinhua)
(ECNS) - Giant panda twins born at a zoo in Brugelette, Belgium celebrated their 100-day birthday on Thursday and met the public for the first time. Their names were also announced.
The mother, Hao Hao, was inseminated in April. She gave birth to the twin pandas, a male and a female, on August 8 at the Pairi Daiza zoo. They weighed 160 grams and 150 grams respectively.
The zoo began calling for suggestions for the cubs' names in late October. After voting by more than 70,000 people, Bao Di, or "little brother of Tian Bao," and Bao Mei, "little sister of Tian Bao," became the favorite choices.
On June 2, 2016, a male panda was born at the zoo and received the name Tian Bao, or "Treasure of Heaven."
Cao Zhongming, China's ambassador to Belgium, said the giant pandas are envoys of friendship between the two countries. They also make the zoo's panda population the largest in Europe.
A Belgium minister said cooperation in panda research shows bilateral friendship. He hopes that both sides will expand exchanges and cooperation in more fields.