Handover ceremony for 88 Chinese soldiers' remains held in Incheon
2022-09-16 Ecns.cn Editor:Mo Hong'e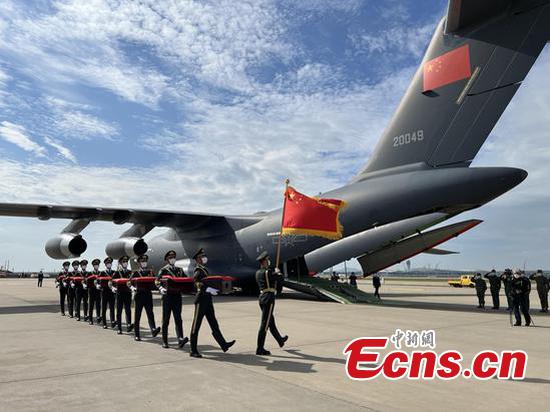 A handover ceremony for the remains of 88 Chinese People's Volunteers martyrs killed in the 1950-53 Korean War was held at South Korea's Incheon International Airport, Sept. 16, 2022. (Photo/China News Service)
(ECNS) -- A handover ceremony for the remains of 88 Chinese People's Volunteers martyrs killed in the 1950-53 Korean War was held at South Korea's Incheon International Airport on Friday.
Representatives of the two sides signed a document confirming the remains and related relics of the 88 martyrs.
During the ceremony, Chinese Ambassador to South Korea Xing Haiming covered the coffins with China's national flag before the coffins were carried onto the airplane.
The Y-20 military transport aircraft will bring back the remains of the soldiers to Chinese soil.
The Chinese delegation led by Vice Minister of Veterans Affairs Chang Zhengguo and the South Korean delegation led by second Vice Minister of Foreign Affairs Lee Dohoon and officials with the Defense Ministry attended the handover ceremony.
China and South Korea have carried out the handover of the remains of 913 Chinese People's Volunteers martyrs in South Korea since 2014.