New opportunities take center stage at China-Africa Economic and Trade Expo
2021-09-30 Ecns.cn Editor:Mo Hong'e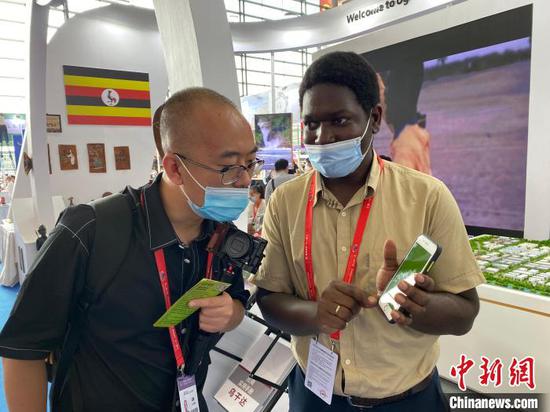 Ugandan business man Ssonko Wilson (R) introduces products at the second China-Africa Economic and Trade Expo in Changsha, capital of Hunan Province, Sept. 29, 2021. (Photo/China News Service)
(ECNS) -- The second China-Africa Economic and Trade Expo (CAETE) was held in Changsha, capital of Hunan Province, on Wednesday.
Among 569 cooperation programs covering 47 African countries and 12 industries solicited this year, 135 have signed with the CAETE at the expo, according to the information office of the Hunan provincial government on Wednesday.
"More and more Chinese started their businesses in Uganda after the first CAETE," said Ssonko Wilson, a 37-year-old Ugandan. "They brought advanced electric machinery to Uganda, and Ugandan businessmen also started oil and fossil fuel companies in China."
"Thanks to the CAETE, economic and trade cooperation between China and African countries are increasing rapidly," he added.
In addition, 10 Service Centers, including Consulting Service Center and Legal Service Center, were established to deepen communication and cooperation between China and African countries . Besides, the first cross-border RMB capital pool and cross-border e-commerce settlement with Africa countries was also initiated.
Themed "New Start, New Opportunities, and New Accomplishments," the expo has attracted nearly 900enterprises from more than 40 countries.
The expo concluded in Hunan on Wednesday.