China high speed rail: lucrative in east, loss-making in center and west
2016-08-02 14:48 Ecns.cn Editor: Mo Hong'e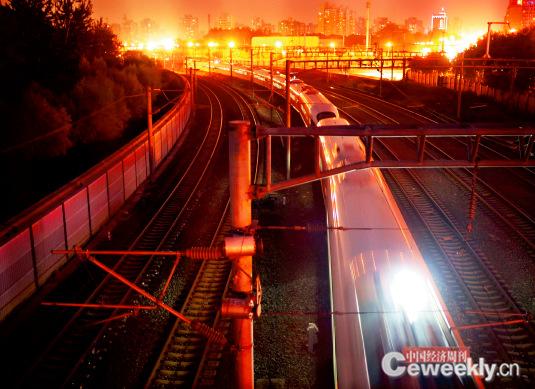 A high-speed railway line in China. (Photo/Ceweekly.cn)
(ECNS) -- The expanded high-speed train network in China has started to make a profit in the populated east, but services running through the vast central and western regions are still far from breaking even.
In 2015, six high-speed rail lines made a profit, with the Beijing-Shanghai route topping the list at a net profit of 6.58 billion yuan ($990 million), said China Economic Weekly on Tuesday, citing a report from the national railway authority.
The six profitable lines all connect mega cities in populated areas with strong economies such as Beijing, Tianjin, Shanghai, Hangzhou, Ningbo, Shenzhen and Guangzhou. Except for the Beijing-Tianjin high speed railway, the other five lines have managed to turn from deficit to profit within five years of operations.
The report showed the Beijing-Shanghai high-speed train that began working in 2011 almost broke even in 2014 due to its large passenger volume. Daily numbers reached 290,000, generating revenues of 30 billion yuan from ticket sales that year.
Two other high-speed trains, both in Yangtze River Delta, also managed to make a profit last year. The Shanghai-Ningbo rail had a net profit of 641 million yuan while the Ningbo-Hangzhou rail line earned 101 million yuan.
But in contrast to profitable railways in the east, high-speed connections in central and western regions fell far short of profitability. Many experts said performance is closely related to the population and economic strength of cities they serve.
The report said many high-speed rail lines connecting major cities in the central and western regions continue to lose money, and some are far from breaking even.
The Zhengzhou-Xi'an high-speed rail has run at a loss since it began operating in 2010, when passenger numbers failed to reach half of capacity. In 2012, the line had a loss of 1.4 billion yuan.
By the end of 2015, China's high-speed railway network had extended rapidly, with the total track reaching 19,000 kilometers, 60 percent of the world's total for high-speed rail.
China has even more ambitious plans, saying by 2020, the total track would grow to 30,000 kilometers and reach 38,000 kilometers by 2025.