The first public use digital renminbi hardware wallet unveiled at 2022 CIFTIS
2022-09-02 Global Times Editor:Li Yan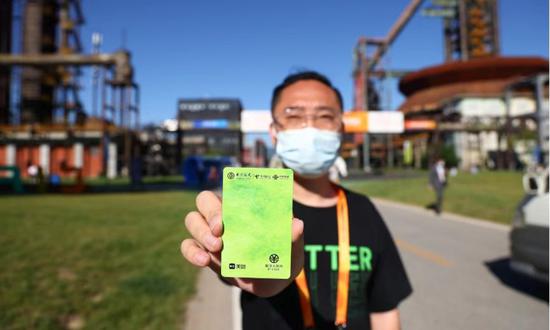 A representative showcases the digital renminbi hardware wallet at the 2022 China International Fair for Trade in Services in Beijing, on September 1, 2022. (Photo/courtesy of Meituan)
The first publically available digital renminbi hardware wallet - named "low-carbon card" - was unveiled at the 2022 China International Fair for Trade in Services (CIFTIS) on Thursday, at Shougang Park in Beijing.
A renminbi avenue was launched at the 2022 CIFTIS allowing audiences to experience various digital yuan hardware and software products on site.
The new hardware wallet was jointly launched by the Bank of China and leading e-commerce platform Meituan.
The low-carbon card can be applied to all kinds of online and offline consumption scenarios, including food delivery, hotel bookings and transportation. It will also simplify the payment process when riding shared bikes, the bus or subway, according to a statement sent from Meituan to the Global Times on Thursday.
The card can be used even without an internet network. It is also convenient for the elderly, children and foreigners who are not able to open bank accounts or use smart phones, a representative at the Shougang Park told the Global Times on Thursday.
"The card enables users to pay without opening any apps but just by a touch on the point-of-sale (POS) terminal," the representative said.
A senior figure from the Bank of China said that as an important carrier of the digital yuan, the featured hardware wallet can facilitate the consumption and payment for the elderly, children and other groups, so that more people can enjoy the dividends of the digital economy.
"The low-carbon hardware wallet will help stimulate the social value of digital yuan in promoting green consumption and contributing to carbon emission reductions," the individual said.
According to Meituan, users in the pilot areas of the digital yuan can search for "low-carbon card" on Meituan's app to apply the card for free.
The current pilot zones for digital yuan include South China's Hainan Province, Xiong'an New Area and 21 cities such as Beijing, East China's Hangzhou, Suzhou, Fuzhou, Qingdao, Central China's Changsha, South China's Guangzhou, Shenzhen, Southwest China's Chengdu and Northwest China's Xi'an.
As showed on the Meituan app, new applications for the card started on Wednesday and will be open until September 20. At the end of September, users can apply for a physical card.
Users can name their own renminbi hardware wallet through the digital renminbi app so that when users pay with the card, their real name will not appear to protect privacy.
As of the end of August this year, more than 7.3 million users had participated in various low-carbon consumption promotion activities on Meituan, and received digital yuan red envelopes, and spent money at nearly 900,000 small and micro businesses in pilot areas of digital yuan, according to the firm.