Accelerating vaccination top policy priority to secure global recovery: senior IMF official
2021-10-15 Ecns.cn Editor:Feng Shuang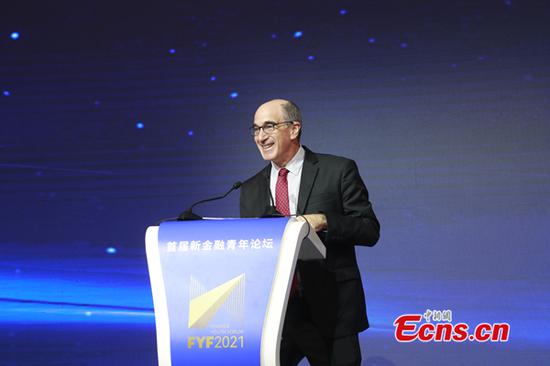 Steven Barnett, IMF Senior Resident Representative in China, delivered a speech at the First New Finance Youth Forum held in Shanghai on October 15, 2021. (Photo: China News Service/ Tang Yanjun)
(ECNS)-- The global economy remains hobbled by the pandemic and the world must work together to secure its recovery, said a senior International Monetary Fund official at the first Finance Youth Forum on Friday.
The forum held in Shanghai was themed "New Era, New Finance, New Youth."
Steven Barnett, IMF Senior Resident Representative in China, raised two policy priorities to support global recovery: vaccinations and support to low-income countries.
"The top policy priority remains accelerating vaccination of the world population. This would yield significant benefits: It would save lives, prevent the emergence of new virus variants, and support the global recovery," said Barnett.
He noted that vaccination progress has been made in advanced economies with the support of their considerable policy space, whereas lower-income economies have been hobbled by a lack of policy space and access to vaccines.
To accelerate vaccinations, an IMF proposal has laid out a concrete way to reach the global targets of 40 percent of the population by the end of this year and 70 percent by mid-2022, Barnett said.
Apart from vaccinations, large financing needs, high debt burdens, and rising financing costs are other challenges that low-income countries face. He suggested added liquidity and debt relief for these constrained economies.
Since the beginning of the pandemic, the IMF has taken several steps to provide over 115 billion U.S. dollars in new financing to 87 countries, including 54 low-income economies, and arrange debt relief for 29 of its lowest-income members, according to Barnett.
In August, the Fund approved 650 billion U.S. dollars, the largest SDR allocation in its history. Low-income countries will receive 21 billion dollars, which is as high as six percent of GDP in some cases.
"The space provided by the SDR allocation can support these economies in stepping up their battle against the crisis," said Barnett.
Barnett added that the pandemic has had enormous human and economic costs. But, like any crisis, it is also an opportunity. He hopes both current and future leaders can seize on it to build the economy of the future.