World's first driverless ART line opens for commercial use in Sichuan
2019-12-05 Ecns.cn Editor:Mo Hong'e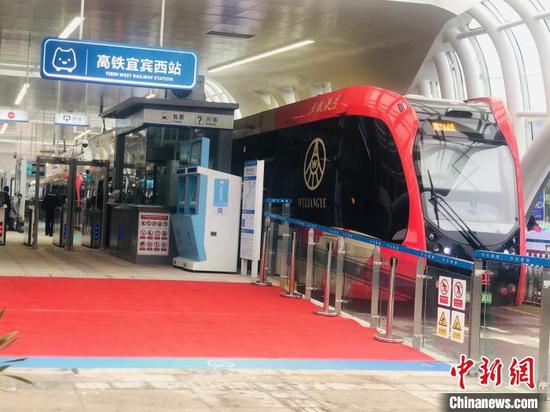 The world's first Autonomous Rail Rapid Transit for commercial use was officially launched in Yibin, Sichuan Province, Dec. 5, 2019. (Photo/China News Service)
(ECNS) — The world's first Autonomous Rail Rapid Transit (ART) for commercial use was officially launched in Yibin, Sichuan Province on Thursday, marking the introduction of a new urban rail transit system pioneered by China.
The Yibin ART T1 line, developed by CRRC Zhuzhou Electric Locomotive Research Institute of China, employs a virtual track.
A train is equipped with sensors that can determine the dimensions of roads and plan its own route.
The Yibin ART T1 line spans a total 17.7 kilometers at an estimated investment of 1.128 billion yuan.
The average daily passenger flow of its first section will be more than 10,000, expected to reach over 25,000 after connecting to Yibin West Station of Chengdu-Guizhou high-speed rail.
The ART T1 Line resembles the B-type subway carriage, which can increase passenger capacity of a single train to more than 500 passengers thanks to marshaling or wireless reconnection technologies.
Besides Yibin, more than 80 domestic and foreign cities have carried out project follow-ups.