Green buildings blossom in cities
2015-06-17 09:51 China Daily Editor: Si Huan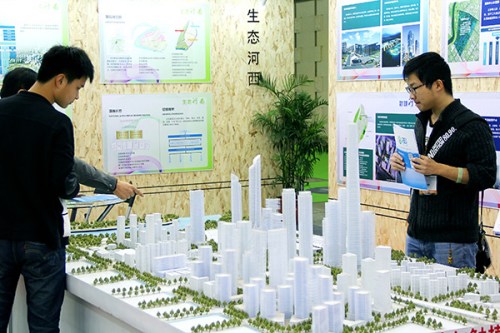 A model of a green building on display at an expo in Nanjing, capital of Jiangsu province. Beijing and Shanghai each have nearly 20 million sq m of green building space, taking the top two positions in the ranking of global green buildings. (Photo/China Daily)
Structures offer cost advantages by savings on resources such as water and energy
The development of the nation's green building sector is on the fast track, with Shanghai and Beijing surpassing major global cities in green space rollout, a property market survey said.
As of April, there were 320 million square meters of green building space in the country, certified by either the domestic Green Building Evaluation Standard or the Leadership in Energy and Environmental Design standard of the United States Green Building Council.
The figure is 154 times higher than in 2008, when the GBES was launched.
The rise reflects increasing concern about environmental issues, as well as government support and rising awareness among developers and tenants of green buildings, market observers said.
Beijing and Shanghai each have nearly 20 million sq m of green building space, taking the top two positions in the ranking of global green buildings. That is more than other major world cities including Chicago, New York and Washington, according to the survey by US-based CBRE, a realty services provider.
Carbon emissions could be reduced by up to 50 percent when a building is operated under the green building standards, according to CBRE data.
The world's top 10 green cities in terms of building space include Shenzhen and Wuhan, the report said.
First-tier cities such as Beijing and Shanghai have begun to harvest economic yields from green buildings, including gaining rental premiums and higher occupancy rates, reducing operation and maintenance cost and value-added advantages to talent recruiting and branding.
Rental premiums of LEED certified green buildings in China may reach 25.7 percent, according to CBRE data.
Analysts said green buildings do not cost more than conventional ones, as many assume, and in addition to hardware that may cut carbon emissions, water consumption and energy use, soft services and operating practices are key to the green status of a property.
"We constantly see examples of businesses that suffer from operational inefficiency and massive capital loss as they excessively introduce non-effective technologies and hardware upgrades instead of focusing on overall planning and management. It is important to get early involvement of professional advisers," said Stephen Tam, senior director of asset services for CBRE China.
China's green building development and services market has a great potential considering the fast expansion of the market and average low per capita occupancy of green building space, which stands at less than 0.2 sq m in second-and lower-tier cities.
The report estimates that current green building space accounts for only 1 percent of China's total existing building space. In 2020, it said, about 10 percent will be green space.
How to transform existing, non-green buildings into certified green buildings is a challenge.
China has already issued government circulars seeking opinion on making standards for transforming non-green buildings into green ones.
"For old buildings, the key to transformation should not be focused on investing heavily (in reconstruction or new facilities). The operational side and management side may be the focus for enhancing energy efficiency, which involves all people related to the building," said Frank Chen, head of research for CBRE in China.