Facial recognition used to catch suspect in crowd of 60,000 concertgoers
2018-04-12 10:59 China Daily Editor: Mo Hong'e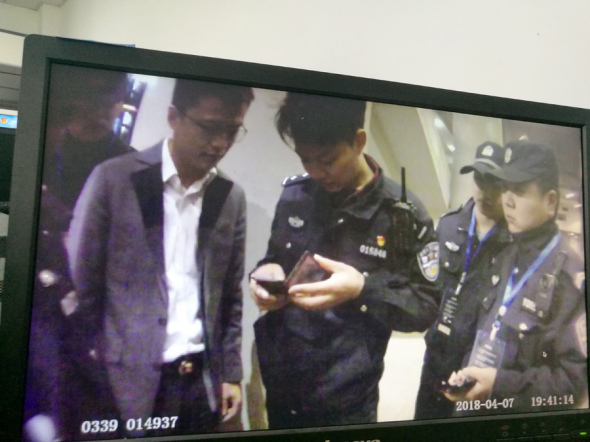 Police check Ao's identity before arresting him at a concert in Nanchang, Jiangxi province, on Friday. (WANG JIAN/CHINA DAILY)
Police nabbed a crime suspect at a concert in Nanchang, Jiangxi province, thanks to a facial recognition system.
The 31-year-old suspect, surnamed Ao, from Zhangshu, Jiangxi province, was wanted by police in connection with an economic dispute in the Guangxi Zhuang autonomous region.
On Friday, Ao and his wife and several friends drove to Nanchang for a concert by Jacky Cheung, a well-known Hong Kong singer, at Nanchang International Sports Center.
Shortly after the concert started on Saturday evening, several police officers appeared in front of Ao and took him away.
The suspect was shocked that he was found among tens of thousands of people, said Li Jin, a police officer from Honggutan police station in Nanchang.
"The concert attracted more than 60,000 visitors, so we paid a lot of attention to its security," said Li. "We set up several cameras at the ticket entrance, which was equipped with facial recognition technology."
He said the system was connected to the police database. The number of people in the audience could be calculated, and identities could be determined by making comparisons.
According to the officer, the suspect has been transferred to Zhangshu public security bureau.
Facial recognition systems have led to the capture of a number of other suspects, as the technology has been adopted more widely in public places.
In August, police in Qingdao, Shandong province, arrested 25 fugitives with the help of a facial recognition system set up at the Qingdao International Beer Festival.
According to Liaoshen Evening News, three suspects were arrested by Shenyang police in nine days based on facial recognition systems set up at several subway stations.