Airport staff member punished for being too handsome?
2018-03-15 14:13 CGTN Editor: Gu Liping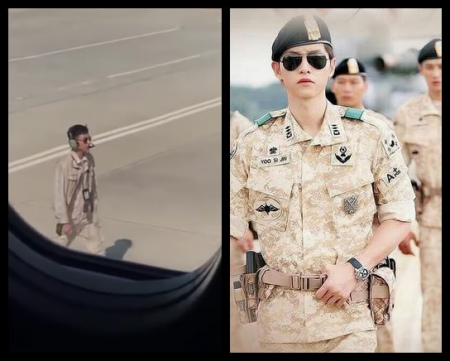 The airport technician (L) vs Song Joong Ji (R) from South Korean TV series, "Descendants of the Sun"/online photo
The price of fame is a high one, a lesson quickly learned by one handsome airport technician who was recently punished by his company after a shot of him walking on an airport runway went viral.
A passenger on board shot a video through their window at southeast China's Xiamen airport, showing the young man wearing shades walking on the tarmac.
The footage quickly gained more than a million views on China's leading short-video platform Tik Tok, as many viewers noted that he looks like South Korean superstar Song Joong Ki who starred in the hit TV drama "Descendants of the Sun" as the captain of a South Korean Special Forces unit.
However, upon hearing the news, the technician's company reportedly deducted 10 percent of his salary since his uniform was untidy and his hand was in his pocket, which is not in line with the company's code of conduct. "Taking into consideration the influential impact this video has made, the aggravated penalty must be applied," company notice said.
On China's top microblogging site Weibo, some people expressed their feelings negatively towards the way the man was treated. User @xiaohuibujiaV said, "I feel sorry for him. He might be the first person ever to be deducted pay for being too handsome."
@jintianyoumeixiezuoyea said "His boss must be jealous of his handsomeness."
While some others supported the company's decision, with user @wenzhongwomennengying commenting, "Indeed, when you are in the uniform, you should behave decently. When you take it off, you can pose however you like."
The staff member himself seemed to be light-hearted about the incident, responding online that he accepts his punishment from the company but feels thankful for those who like his style.
"Honestly, I still feel quite happy because it is not easy to become so famous that quickly. My company did nothing wrong, it was my fault for not keeping with the correct standards in terms of dress code and behavior," he wrote, "Please don't bombard the passenger who uploaded the video online. I never blamed her, because she didn't mean to cause me any harm."