Beijing to spend 16.5 bln yuan for cleaner air in 2016
2016-01-25 09:12 Xinhua Editor: Gu Liping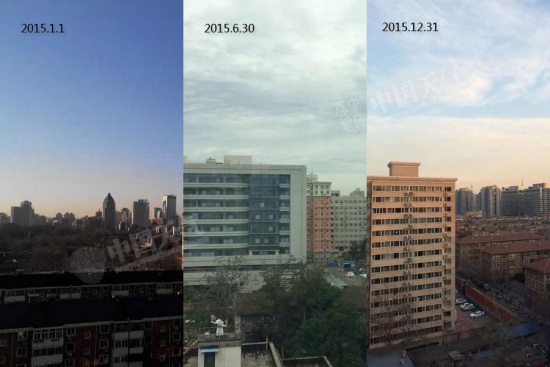 Photos taken on January 1st, June 30th and December 31st, 2015 in Beijing are put together by the China Meteorological Bureau on December 31st, 2015.(Photo/weather.com.cn)
Beijing will earmark 16.5 billion yuan (about 2.57 billion U.S. dollars) to improve air quality in 2016, sources with the Beijing environment authorities said on Sunday.
The funds will be used to cut back on coal use and eliminate outmoded vehicles in the capital.
The average density of PM2.5, airborne particles smaller than 2.5 microns in diameter, in Beijing last year declined by 6.2 percent year on year, statistics with the Beijing Environment Protection Bureau show.
Beijing aims for a year-on-year drop of 5 percent in its average PM2.5 reading in 2016.
The city government has promised to remove 200,000 high-emission vehicles from the roads and promote the use of clean energy in 400 villages this year.