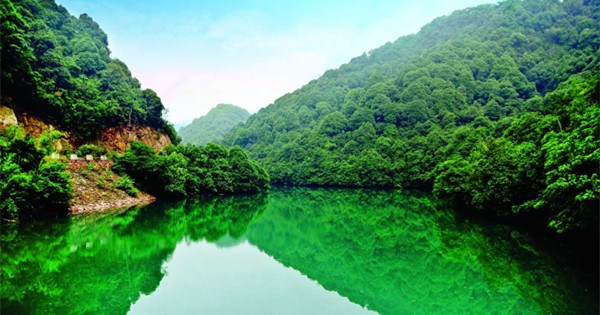 One of Deqing county's many small lakes
A well-loved and increasingly well-heeled weekend destination for city dwellers in Shanghai, Hangzhou, and beyond, Deqing County—home to the hallowed Mogan Mountain Forest National Park (莫干山国家森林公园)—is a bucolic land of lush green hills, swaying bamboo clusters, hidden farmhouses, and, crucially, peace and quiet. Let's face it, living in one of the most densely populated urban regions on earth (as many of us thumbing through this magazine do) can be one hell of a noisy ride, so it's only natural to seek solitude and silence at least a couple of times a year, which is where much of Mogan Mountain's enduring appeal comes into play.
With a smorgasbord of accommodation options spread throughout Mogan Mountain's misty peaks and, indeed, further afield throughout Deqing county's handsome lanes and fragrant valleys, you're sure to find lodgings that suit you and your family's needs no matter your budget. But, the reasonably priced Walden Resort is particularly recommended. Opened in 2016, Walden Resort is the prefect synthesis of urbane comfort, modernity, and rural simplicity. The resort's Chinese name, 溪上, translates to "above the creek," a reference to the free-flowing Panxi River (盘溪) that lies directly at the resort's feet; the English name, obviously, pays homage to Henry David Thoreau's ode to living a simple, natural life in the bosom of nature.
Driving through Deqing's shiny peaks and verdant valleys, the pressures and distractions of the city fall away with each passing kilometer; the roads become narrower, the houses fewer and further between, and the hills grow more imposing as you wind your way through bucolic, steamy countryside. Eventually, if you're Walden Resort-bound, you end up following the aforementioned Panxi River, hugging it all the way to Dongshen village.
Situated around 30 minutes away from Mogan Mountain's more popular resort and restaurant-filled "town center" (for want of a better term), and traversed by the Panxi River, Dongshen village is an interesting place to explore. It's full of smiling locals, sky-high piles of bamboo, sunbathing farm dogs, and more. There's no sign of gentrification here, unlike in other, more laowai-friendly parts of the wider Mogan Mountain region. The closest you'll get to a vanilla latte is a bottle of sweet milk tea, but that's what makes this location great: It's as authentic as it gets, and local life around the village goes on without fuss or fanfare.
Some city dwellers looking for 48 hours or so out of the big smoke choose to simply sit back and put their feet up with a nice book and a steaming mug of green tea. But, peace and tranquility is not in the cards for those of us with kids, so it's best to keep moving. Besides, who wants to sit inside when outside there is so much to see, do, and, perhaps most importantly, so much to eat?