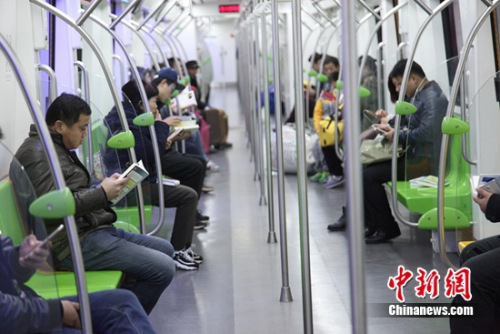 People read books scattered on the subway in the morning. (Photo/Chinanews.com)
丢书
Scattering Book(project)
Inspired by British actress and "book fairy" Emma Watson, the Scattering Book project, which advocates leaving books in public spaces for more people to read, is going viral nationwide.
近日,受英国女星艾玛•沃森"藏书"活动的启示, 一场"丢书"大作战迅速在中国刷爆朋友圈,活动倡议大家在共交通区域"丢"书,让更多人享受阅读的乐趣.
Xinshixiang, an influential public account on WeChat launched a Scattering Book project on Tuesday in Beijing, Shanghai and Guangzhou, with 10,000 books left in the subways, airplanes and taxis for sharing. Celebrities such as Chen Luyu, Xu Jinglei and Huang Xiaoming participated in the event.
"丢书"活动由微信公众号"新世相"团队发起.11月15日,该活动在北上广三地同时上演,约1万本图书被"丢"在北京、上海和广州的公共交通区域,等待经过的人们捡起、阅读.随后,陈鲁豫、徐静蕾和黄晓明等众多明星纷纷加入到此次活动中.
Lu Jinbo, president of Guomai Culture and Media, believes that young people are becoming the main force of cultural consumption, with online reading groups springing up.
果麦文化传媒公司董事长路金波认为,年轻人正在成为文化次消费的主力军,在线阅读如雨后春笋般成为潮流.
Meanwhile, the project is also stirring heated debate. Some have their doubts, wondering if it is just a marketing campaign or whether it will really help people pick up a paper book again.
同时,"丢书"活动也引起热议.在有些人看来,这不过是一次商业营销行为,公众并不能真正培养起阅读书籍的习惯.
Related News: Hidden books on Chinese subways met with mixed response