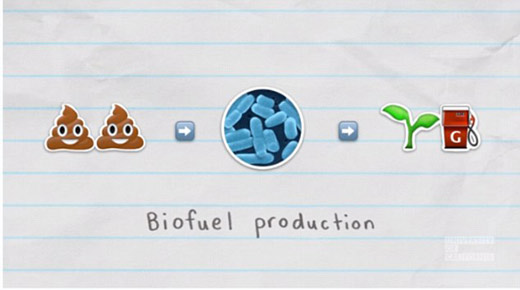 人类粪便或成未来汽车燃料
Will your next car run on POOP? UCLA reveals 'high protein' fuel system that uses human waste
While experts are developing 'greener' alternative fuel sources, a group of undergrads are creating a more natural one.
当专家们还在研发更环保的燃料时,一群在校生已经开始制作一种天然的燃料.
The team is working towards producing a biofuel that uses human and animal excretion, with the hopes of replacing harmful gasoline, diesel and jet fuel that dominate the market.
这个研究小组正在用人和动物的排泄物生产生物燃料.他们希望以此替代目前占据市场主导地位但却有害的汽油、柴油和喷气燃料.
By engineering Bacillus subtilis, researchers are able to break down proteins and transform the left over material into alcohol biofuels and ammonia.
通过对枯草杆菌进行处理,研究者们成功地分离了蛋白质,把排泄物转化为酒精生物燃料和氨气.
The US produces over 1 billion tons of animal and human waste every year, which does nothing but sit in an aerobically compost giving off harmful emissions.
美国每年产生超过10亿吨的动物和人类排泄物.它们原本没有任何用处,只能堆在耗氧肥料中释放有害气体.
David Wernick, a PhD candidate who graduated from the University of California, and his colleagues 'were struck by all the waste that is literally going to waste' and realized the material may have potential as a renewable fuel source, reports the University of California.
大卫·韦尼克是毕业于加州大学的博士生.据加州大学报道,有一天,他和同事们灵机一动,想到这些被浪费掉的排泄物或许可以转化为可再生燃料.