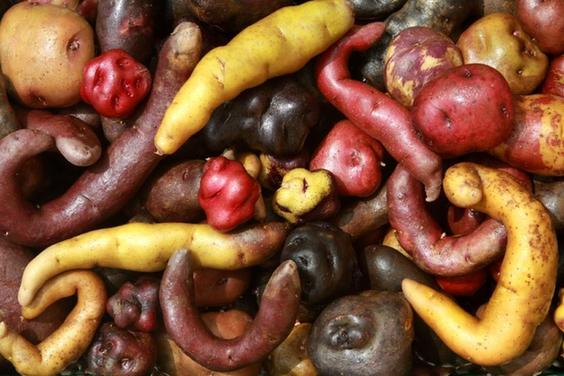 美国航天局模拟"在火星上种土豆"
NASA to simulate growing potatoes on Mars in Peru
Do Peru's potatoes have the right stuff?
秘鲁的土豆能经受住考验吗?
That's the question scientists will be asking in Lima next month, when a selection of tubers will begin undergoing tests to determine whether they're fit to grow on Mars.
这是下个月科学家将要在秘鲁首都利马问的一个问题,届时,经过精心挑选的土豆块茎将接受测试,以确定它们能否在火星上种植.
NASA, the US space agency, is conducting the pioneering experiment together with Lima's International Potato Center (CIP).
美国航天局(NASA)将与利马国际马铃薯中心(CIP)联手,进行这一开创性实验.
They will cultivate a hundred selected varieties already subjected to rigorous evaluation in extreme, Mars-like conditions that could eventually pave the way to building a dome on the Red Planet for farming the vegetable.
他们将对100种精心挑选的、已在类火星极端环境下严格评估的品种进行培育,而这最终将为人们在这颗红色星球上建立蔬菜种植"大棚"铺平道路.
The selection was made from a total of 4,500 varieties registered at CIP, a nonprofit research facility that aims to reduce poverty and achieve food security.
国际马铃薯中心是一个致力于削减贫困、保证粮食安全的非营利研究机构.这些土豆是从在国际马铃薯中心登记注册的4500个品种中挑选出来的.
Of the selected candidates, 40 are native to the Andes Mountains, conditioned to grow in different ecological zones, withstand sudden climate changes and reproduce in rocky, arid terrain.
在获选土豆中,有40种是安第斯山脉土生土长的品种.这些品种可在不同生态地区生长、对气候的突然变化具有耐受性,并可在多岩石的干旱土壤中生长繁育.
The other 60 are genetically modified varieties able to survive with little water and salt. They are also immune to viruses.
另外60种土豆均为转基因品种,能够在缺水和低钠的环境中生存.此外,这些品种还对病毒免疫.
Those that pass the tests must meet a final criterion -- they must be able not only to grow well on Mars but also reproduce in large quantities.
这些品种最终必须达到一个标准:不仅能在火星上茁壮生长,而且还能被大量繁育.
"We're almost 100 percent certain that many of the selected potatoes will past the tests," said Julio Valdivia Silva, a Peruvian NASA astrobiologist who is taking part in the ambitious project.
参与美国航天局此项宏伟计划的秘鲁裔太空生物学家胡里奥·瓦尔迪维亚·席尔瓦说:"精选出来的土豆中,将会有不少品种通过测试,对此我们有百分百的把握."
The scientists hope the experiment will also help address the earthly scourges of hunger and malnutrition by identifying varieties suited to growing in harsh conditions.