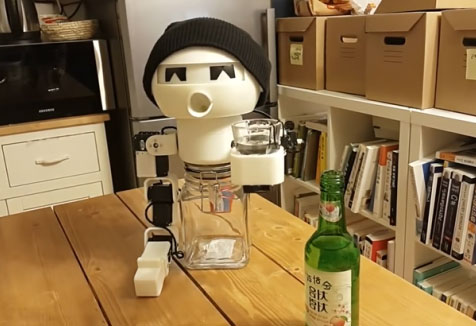 韩国陪酒机器人邀君共饮 会脸红有酒量
Drinky: The South Korean robot ready to share a glass of booze with lonely drinkers
With this mechanical friend, you'll never have to drink alone!
有了这个陪酒机器人,妈妈再也不担心我一个人喝闷酒了!
Some creative visionaries harness the power of technology to help people work more efficiently or to stay connected with friends and family in different parts of the world. Eunchan Park, however, had a different goal in mind. The South Korean inventor wanted to put his robotics knowhow to use in making alcoholic beverages taste better.
有些发明家利用技术帮助人们高效工作或与世界各地的亲朋好友保持联系.但是,韩国发明家朴恩惠却不这样想,他想利用自己掌握的机器人技术让一个人饮酒变得更有趣.
And thus was born Park's robotic drinking buddy, who's appropriately named Drinky.
因此朴恩惠的陪酒机器人就诞生了,他称其为Drinky.
The inspiration for Drinky came during a dateless Christmas which Park spent with a bottle of soju (the traditional Korean alcohol called shochu in Japan). During his solo drinking session, Park decided, on a whim, to pour a second glass and place it in front of himself, as though he were drinking with a friend. He found that doing so improved not only the atmosphere in the room, but also how he perceived the soju's flavor, and figured that even more benefits could be reaped with a robotic companion.