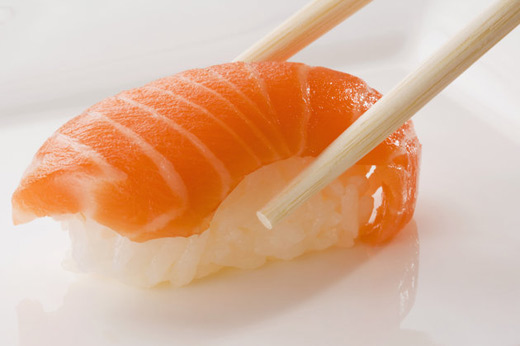 全球首例!美国批准转基因三文鱼上市
FDA OKs genetically modified salmon for human consumption
The Food and Drug Administration on Thursday approved genetically modified salmon, the first such altered animal allowed for human consumption in the United States.
美国食品药品管理局周四批准了转基因三文鱼被人类食用.批准转基因动物食用在美国尚属首次.
The Obama administration had stalled in approving the fast-growing salmon for more than five years amid consumer concerns about eating genetically modified foods. But the agency said Thursday the fish is safe to eat.
奥巴马政府五年多以来一直未能批准快速增长的转基因三文鱼上市,因为消费者一直担心食用转基因食品是否安全.但本周四,食品药品监督管理局已经明确了,转基因三文鱼可以安全食用.
In announcing the approval, the FDA said that there are "no biologically relevant differences in the nutritional profile of AquAdvantage Salmon compared to that of other farm-raised Atlantic salmon."
食品药品管理局表示,AquAdvantage三文鱼(美国AquaBounty技术公司的研究人员将大西洋三文鱼、太平洋奇努克三文鱼以及大洋鳕鱼三种鱼进行基因杂交改造,培育出来的一种全新三文鱼品种)与其他农场养殖的大西洋三文鱼的营养含量没什么生物区别.
AquAdvantage Salmon was created by the Massachusetts-based company AquaBounty. Ron Stotish, the company's CEO, said in a statement that the fish is a "game changer that brings healthy and nutritious food to consumers in an environmentally responsible manner without damaging the ocean and other marine habitats."
马萨诸塞州公司AquaBounty培育了AquAdvantage这一三文鱼品种.该公司CEO罗恩·斯拖提希在一次声明中表示,该品种三文鱼是一个革命者,它将给消费者带来健康营养的食物,并且承担起环境责任,不损害海洋及海洋生物.