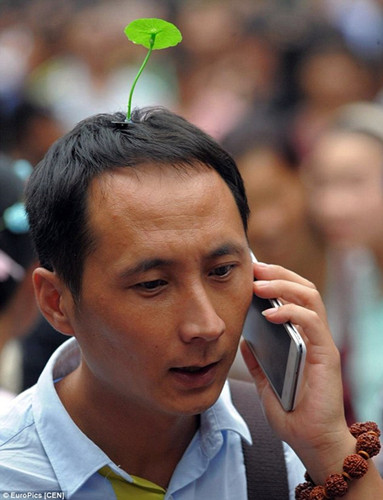 听说"豆芽花"发卡已席卷成都
Quirky floral 'antenna hairpins' are the new must-have accessory for trendy Chinese
When it comes to fashion, just about anything goes. Citizens in Chengdu, the capital of south west China's Sichuan province have been spotted sporting quirky antenna hairpins.
所谓时尚,只有你想不到的,没有做不到的.有人注意到,在中国西南部四川省的省会城市,成都市民玩起了新奇的"豆芽花"发卡.
Around 100 different designs are available for the unusual hair accessories, which have been worn by the young and old, reported People's Daily Online. Many of the hairpins are different varieties of plastic flowers. From afar, it looks like a plant has germinated from the top of a person's head. Upon closer inspection, it looks more like an antenna.
据人民网报道,这款新奇发饰老少通吃,有近百种不同设计,其中不少都是塑料花,远看像从头顶上发芽长出的植物,近看更像天线.
According to reports, the antenna hairpins have appeared all over Chengdu recently. Initially they were restricted to touristy areas but have since spread to other parts of the city.
据报道,"豆芽花"发卡近日风靡成都的大街小巷,最初,这种发卡只出现在成都的旅游景点,之后流传到其他地方.
Many people are wearing them because they thought the hairpins made them look cute, and it's not just restricted to women or children. One man has told reporters: 'I saw them and thought they were interesting so I bought one. People look cute when wearing it.'
很多人都戴上了"豆芽花"发卡,因为他们认为这样很萌,而且戴的人已经不局限于女性、儿童了.一名男子告诉记者:"看到就买了一个,觉得很有意思,戴上去显得挺可爱."
His views are not shared by everyone however. Another man thought the hair pieces were silly. He said: 'There are middle-aged men wearing the hairpins. They just look ridiculous.'
不过,也有人表示异议,一名男子认为这种发卡很幼稚,他说:"有的中年男子戴起,感觉不伦不类."
People have also taken to the web to discuss this bizarre new trend. One said: 'Everyone is wearing it in Kuan Zhai Alley. I saw someone wearing it on the underground today. It feels like they might be able to transmit WI-FI signals.'
还有人在网上讨论这种怪异新潮,一名网友评论:"宽窄巷子一条街全是,今天坐地铁还遇到一个,感觉可以感应WiFi."
But street vendors are glad of the trend. They are sold for 5 yuan by vendors but can be found online for as little as 0.3 yuan. As a vendor can sell over a hundred of the hairpins each day, they stand to make hundreds of yuan.
不过,街头小贩倒是很高兴.网售最低3毛钱,街头小贩卖5元一个,一天卖上百个,也能挣个几百元.