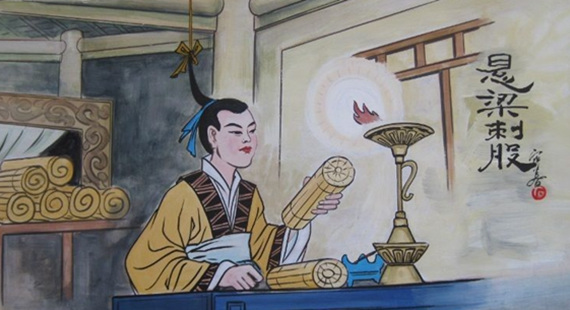 Chinese people have a reputation of being hard working. But if you know what kind of examples their diligent ancestors had set for them, you may no longer be surprised.
悬梁刺股 (tie one's hair to the house beam and stab one's thigh with an awl)
It is common sense that hard workers are constantly in a battle against the allure of sleep. The idiom 悬梁刺股 (tie one's hair to the house beam and stab one's thigh with an awl) tells two stories about the painstaking process of keeping awake.
In the Eastern Han Dynasty, there was a famous politician named Sun Jing, who was very eager to study, even at night. In case he fell asleep when reading at night, Sun created an extreme measure that would aid him. He tied his hair to the beam while reading. Then, if he dozed, his hair would be pulled upward by the rope and the pain would wake him up.
Before you get shocked by Sun's self-torture, the anecdote of Su Qin, a famed strategist, in Warring States Period, was more appalling. According to Strategies of the Warring States, when Su was young, he failed so many times to obtain a governmental position that even his family looked down at him. So he made up his mind to work hard. When he felt sleepy at night, he used an awl to stab at his thigh. Blood flew and he could become sleepless and focus on reading again. Of course his blood and hard work was rewarded. With his excellent performance, he was appointed as premier in six states out of seven at that time. Then, people combined Su's story with Sun's and created the allusion 悬梁刺股.
圆木警枕 (round log alerting pillow)
During the Song Dynasty, Sima Guang, a historian and literary powerhouse, used a relatively moderate way in his struggle against sleep. When he was young, he lived in a room with only a desk, chair, and bed. He would read all day and was not distracted at all. But his secret was his pillow, which was actually a short round log. When he was tired, he would sleep on it for a while. And as long as he moved, the round log would roll away and wake him up. This way he would not sleep for too long and could go back to studying soon. So, because of the alarm function, his pillow is called "round log alerting pillow (圆木警枕)".
囊萤映雪 (Light from collected fireflies and reflected by snow)
Another enemy of all-nighters may be the lack of light. In ancient times, poor families could not afford lamp oil, so genius individuals found substitutes. In the Jin Dynasty, there was a man named Che Yin who was fond of learning but his father could not buy him lamp oil. Che thought it was a complete waste of time not reading at night, but had no choice. Until one summer night, he suddenly saw many fireflies lighting up outdoors, like spots of brightness in the dark. He suddenly had a thought: if many fireflies could be contained together, they might be able to serve as a lamp. Upon having this thought, he found a bag, caught as many fireflies as he could, and hung it up. Although it was not as bright as a lamp, it worked well enough that he could read under it. Due to all his diligent studying, he became a senior official later on in his life.