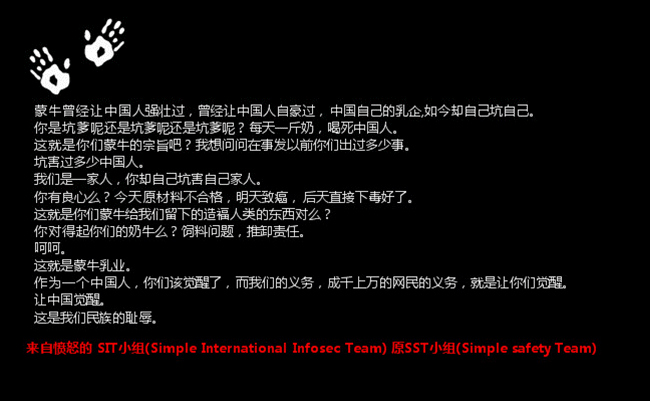 A hacker team hacked Mengniu's website on December 28, putting up a black screen with fourteen lines of text condemning Mengniu.
Credit crisis
It is not the first time Mengniu was exposed for flogging flawed products to the public. In 2008, Mengniu was one of several dairy producers whose products tests revealed Mengniu had added the artificial milk protein Osteoblast into the high-end milk product Telunsu, an illegal act in China.
In April, 251 children at a town primary school in Shaanxi province fell ill after drinking Mengniu milk. This event was regarded as an incidence of collective hysteria but the public wasn't convinced and maintained a questioning attitude.
It is ironic that Mengniu Dairy Group was honored by the Ministry of Culture in November for its accomplishments in safety measures. Now the cancer-causing Aflatoxin M1 scandal has cropped up, like a slap in the face of the awarding organization.
It seems Mengniu has learnt little from crises that have been both severe and frequent. Mengniu, literally means cattle in Inner Mongolia, and now consumers envision herds full of toxins. It is a Chinese market "miracle" that this Inner Mongolia –based dairy giant is still standing after being convicted of neglect one would think should be fatal.
Industry experts say this Aflatoxin M1 scandal not only severely undermines Mengniu, but also justifiably shakes Chinese confidence in the dairy industry, confidence still shaky from the notorious 2008 melamine milk crisis.