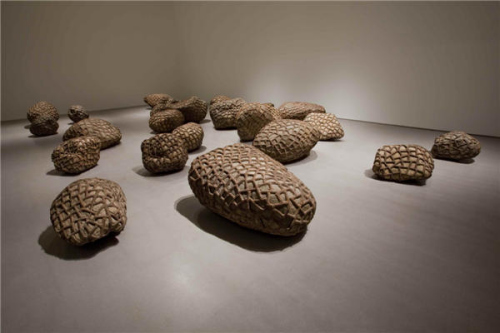 Earthly Force, by Sui Jianguo, 1992-1994.
New Figuration — Narrative Sculptures, an exhibition at Germany's Lehmbruck Museum, shows the dynamic development of Chinese sculptures over the past three decades.
Chinese contemporary artists have abandoned the traditional teachings of sculpting. They have used the materials in innovative formations to critique on social issues. In his ceramic works, Fang Lijun challenges people's perception of porcelain and brings more possibilities to the material. The figures in Xiang Jing's installation reveal people's state of mind in an instant moment of life.
Named after German sculptor Wilhelm Lehmbruck (1881-1919), the museum was founded based on Lehmbruck's collection of paintings, drawings and sculptures of international artists. The works of Chinese artists are juxtaposed with pieces of renowned European artists including Alberto Giacometti (1901-66) and Auguste Rodin (1840-1917), establishing a new cultural connection between the East and West, past and present.
New Figuration — Narrative Sculptures is a part of the ongoing art event China 8, which introduces the look of Chinese contemporary art with nine exhibitions in the Rhine-Ruhr metropolitan region. The exhibition runs until Sept 13.