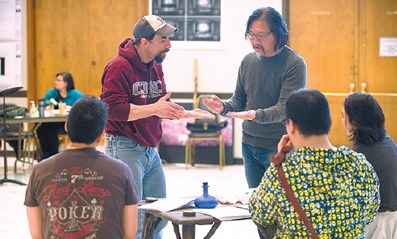 Stan Lai works with the cast at the rehearsal of Secret Love in Peach Blossom Land. Photo provided to China Daily
Some of the comedy still worked, Lai reveals, but he had to adapt or delete other parts from the script.
Reviewer Angela Decker wrote in the Mail Tribune that Lai "peppers it with Ashland in-jokes, and simultaneously embraces and pokes fun at the festival's commitment to multiracial casting. For the most part, the play translates extremely well..."
This is what Rauch liked about the play and Lai's direction in the first place, "that it is set in whatever theater it was being produced". Changes are made to "have the play make sense in an American context", which includes OSF's multiracial cast that includes five Asian-American actors. "It's been beautiful to watch Stan find ways to make the play clearer to an American audience, ... but also making sure that he didn't compromise the integrity of his story. He's done it in a very artful way."
Regarding the cultural balance in presenting a foreign work, Rauch says he wants the audience to "feel the differences in our cultures in as many ways as possible, but ultimately to be moved by our shared humanity." On his part, Lai brought in a Peking Opera specialist to train actors as percussionists, so as to make a lot of "noises". He made many directorial choices that push the play to new modes of expression, earlier untried in China, he says.
Lai is surprised by how easy some things are to get through and how hard others are. He feels that the reason this play clicks with a US audience is the same reason it rings true in China today-29 years after its inception.
As Roberta Kent wrote in Ashland Daily Tidings, the play "is sophisticated storytelling whatever its original language or particular storytelling technique. Lai makes the intricacies of Chinese comic opera as accessible as the Marx Brothers or The Three Stooges. Lai's cultural mash-up works on multiple levels. Some of the play's elements seem a bit strange at first but broad physical comedy and stories of heart-wrenching loss are universal".
Decker called it "entertaining, even goofily funny at times", and "also a thoughtful, layered work that explores the anguish of people separated from their loved ones, the weight of a violent history and the way such emotional pain colors every aspect of life".
Building on its success, OSF plans to present two more plays that require more Asian-American actors next season-a new Vietnamese-American play, and an Asian version of Shakespeare's The Winter's Tale, in which half of it will be set in dynastic China and the other half in the Old American West, says Rauch.
Meanwhile, the classic Chinese production with Huang Lei and He Jiong in principal roles is revived every year and sold out for most shows. A new production featuring more youthful talents will be installed in a Shanghai theater specially outfitted for Lai's works. Whoever in the cast and whatever the language, Secret Love in Peach Blossom Land never fails to elicit tears and laughs in seamless harmony.