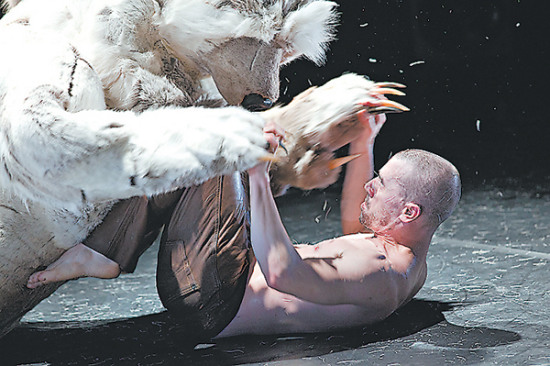 Dramas revolving around female themes including Miss Julie and Faune (above), both staged at Beijing's 9 Theater, are highlights of the International Women's Festival. Photo provided to China Daily
The International Women's Festival was held in Beijing on April 11 at the National Center for the Performing Arts.
A brainchild of theater director Li Zi, the biennial event since 2011 is in its third year now, and attempts to pay tribute to women onstage and in the audience.
Earlier this month, the festival was opened by the Taiwan drama Weddings of Jinhua's Family that was staged on April 11 and 12 at the NCPA.
Eight drama works from around the world will be staged in May in Beijing, all focused on female themes, including Hors-Champ by Belgian dancer-choreographer Michele Noiret, French physical theater Faune, Singaporean drama Emily of Emerald Hill, Chinese physical theater Everlasting Regret, Chinese opera Miss Julie and Chinese drama Hero 24 Hours.
Li, who completed her master's degree in direction and theater production at the National Academy of Chinese Theater Arts in 2009, says that the event resulted from her desire to give back something to her mother and other Chinese women.
"I had seen that album before but I never carefully looked at it. In each photo, my mother's eyes were sparkling and I could read that like any young person, ... she was anticipating the future," says Li of the time when she saw photos of her mother, then an architecture teacher.
As she went through her family album, she found more pictures of her mother at different ages, getting married, giving birth to her and getting old, which let her to think about how a woman experiences life while devoting herself to the family, and in many cases, a career.
"I wanted to do something to show my respect," says the 29-year-old, who was born and grew up in Hefei, capital city of Anhui province, and later worked as a director for China Central Television's movie channel.
"My mother is very supportive. When she realized the whole idea was from her photos, she was touched."
For Li, who studied theater direction in Anhui University from age 16, the magic of theater lies in mirroring society and people's inner worlds.
"My research on theater audiences in China showed that 60 percent of them are female," Li says.
"With IWF, we want to tell women's stories through works of drama. What's more important, we hope that more people can understand how women deal with their lives in the modern world, especially the challenges they face."