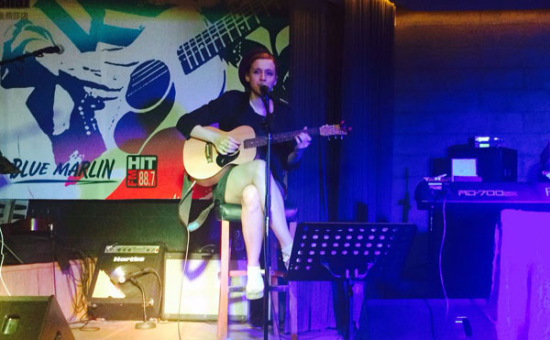 French folk singer Elsa Kopf performs at Elsa Kopf Beijing on April 24, 2015. (Photo by Jiang Wanjuan/chinadaily.com.cn)
Beijing's popular music channel Hit FM is working with live music and dining venue Blue Marlin to regularly bring popular independent western bands to perform at the brand's different locations in China.
The collaboration kicked off on Friday night in Beijing with live music by Elsa Kopf. During her one-and-a-half-hour performance, the French folk singer performed her original songs in English, French and German to a full house.
After Beijing, Kopf performed for an audience of nearly 1,000 on Saturday in Blue Marlin's much bigger venue in Shanghai.
From April to December, a total number of ten western bands are expected to perform at Blue Marlin in Beijing, Shanghai and Jiangsu thanks to Hit FM.
Hit FM is a radio station at 88.7 FM in Beijing, and is owned and operated by China Radio International. Blue Marlin is a 15-year-old music and dining chain featuring resident house bands with locations in eight Chinese cities.