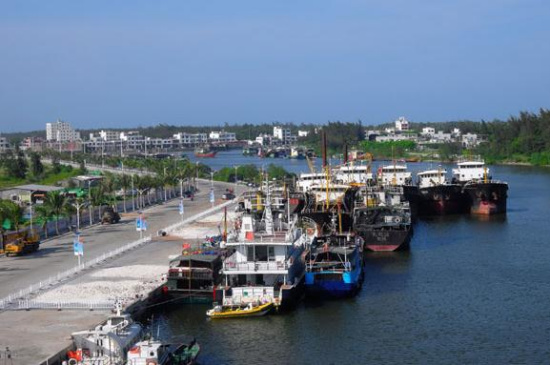 (Photo provided to China Daily)
The growing interest in the Silk Road is prompting more tourism operators to take people to increasingly far-flung parts of the ancient route and a boom in cruises.
The Xisha Islands will soon be offered to more cruise passengers following the popularity of the Coconut Princess cruise liner's new 21st-Century Maritime Silk Road route to the archipelago.
"Demand for Xisha Islands visits generally outstrips supply," Hainan Daily quoted Sansha city Mayor Xiao Jie as saying during the two sessions in March.
Sansha administers the roughly three-dozen islands off Hainan province's coast. "We're planning to launch more routes and options this year."
The cruise has been rerouted and, since Feb 7, re-branded as a Maritime Silk Road excursion, because more cruise companies are hopping aboard the concept of creating modern tours along the ancient sea routes.
The re-branding of the Coconut Princess came two days after the much talked about Feb 5 maiden voyage of the Beibu Gulf Star, which media hailed as China's "first Maritime Silk Road cruise liner".
The Beibu Gulf Star departs from Beihai Port in the Guangxi Zhuang autonomous region's capital, Nanning.
It spends nine days traveling to Vietnam's Da Nang and Nha Trang; the Gulf of Thailand; and Malaysia's Genting, Redang-known for ancient settlements and modern resorts-and, finally, Kuantan Port.
Traditional Silk Road land tours are also adding cruises to their offerings, such as China International Travel Service's Ancient Silk Road Tour with Yangtze Cruise package.
The 18-day trip takes guests to the ancient route's mostly upcountry destinations of Beijing, Shanghai, Shaanxi's provincial capital Xi'an and Guangxi's Guilin before putting them aboard a Three Gorges cruise.
The Coconut Princess route is one of seven Silk Road Maritime cruises the Hainan Tourism Development Commission simultaneously announced.
"Hainan is an important Maritime Silk Road link," commission director Lu Zhiyuan said at the opening ceremony.
It seems likely Maritime Silk Road cruises will proliferate along China's coasts this year, because the China National Tourism Administration has declared 2015 the Year of Silk Road Tourism.