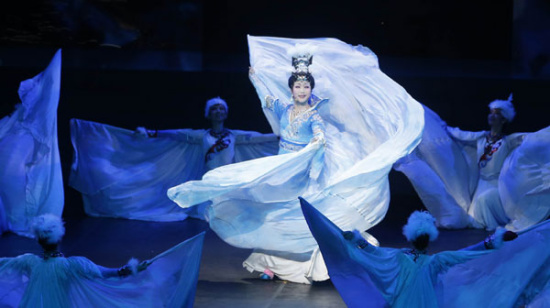 Li Yugang continues his exploration in cross-dressing performances and his latest show, Lady Zhaojun, is inspired by the legend of an ancient Chinese beauty. (Photo/China Daily)
Li Yugang, with exquisite makeup and his short hair combed neatly back, walks into a meeting room at his studio with his entourage trailing behind. He sits as his helpers inform him of his schedule, handing him a cup of warm, lemon-scented water.
The sharp suit and entourage could accompany any man-of-the-moment in showbiz - but Li is not just any man. His specialty is playing female roles, his performances combining traditional Chinese Peking Opera and pop music.
From the moment the now 36-year-old came to the public's attention in CCTV's popular talent show Star Boulevard in 2006, he has been known for his unique cross-dressing performances. With each show he performs in China and overseas, Li attracts more fans while the voices of his critics grow ever louder.
Some of his most vocal critics are Peking Opera masters, who question his professionalism in performing the ancient art form and condemn him for misguiding young audiences' understanding of Peking Opera. Even his family once doubted his job because they could not understand why their son performed as a woman onstage.
Despite the debate about his work, Li has continued to push boundaries because he values his art.
Li has been immersed in preparing for his upcoming show, Lady Zhaojun, the story of the legendary Wang Zhaojun, a famous ancient Chinese beauty who volunteered to marry a ruler of a Hun tribe in exchange for friendly relations with the Han Dynasty (206 BC-AD 220) and was later buried in Hohhot, the Inner Mongolia autonomous region. The show will also be Li's directorial debut.
There is a saying that a man can never truly understand a woman. But Li is confident in portraying Wang, who left her hometown on horseback and began a journey north.
In fact, it is the third time Li has played the role of Wang. In 2010, Li performed the role in his show Flower in Mirror, Moon in Water. A year later, he played Wang again in a chapter of his show The Painting of Four Beauties.
He has been thinking about developing a show about Wang for years but until now, he was unsure if he was ready.
"Frankly, the first two shows didn't give a full presentation of Wang Zhaojun because my acting and singing skills were not good enough," says Li.
The controversy surrounding his performances also made Li confused and sad. "I had many questions about myself. I couldn't concentrate on making a good show about Wang Zhaojun," he says.