(ECNS) -- While the allure of frisbee and cycling have dominated leisure trends, a new wave is sweeping China's recreational landscape, propelling water sports, such as surfing, paddle boarding, and kayaking into the spotlight.
Recent years have witnessed the nationwide construction of water sports facilities. Guided by strategic policies, the shift from coastal areas to inland rivers has eased the barriers to entry and reduced participation costs. With diversified forms, an increasing number of participants are attracted to water sports.
Nanning, the provincial capital of Guangxi Zhuang Autonomous Region in south China, exemplifies this trend. Formerly home to a mere two or three water sports clubs before 2019, the number has now grown tenfold.
The city is also promoting water sports training, including kayaking, in schools, aiming to make water sports a "new calling card" for the city.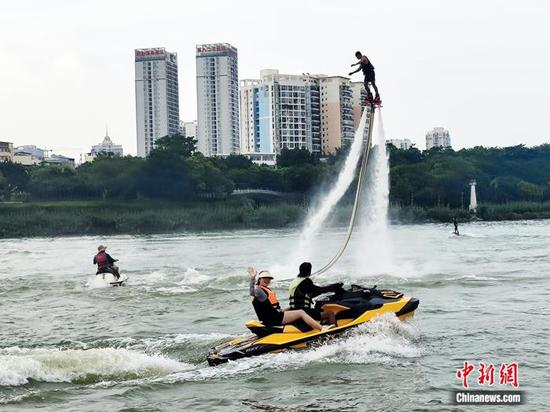 People experience water sports in Nanning, Guangxi Zhuang Autonomous Region. (File Photo/China News Service)
"I'm optimistic about the future development of water sports," Yu Jia, who operates a surfing club in Nanning, noted.
He added that the club has been operating water sports on the Yong River for three years, attracting 200 participants on average every weekend.
"Ever since the first time I tried wave surfing, I fell in love with the sport. I felt the pure joy of riding the waves," said Li Ying, a passionate surfing enthusiast from Nanning.
With the help of wave-making boats that mimic ocean swells, wave surfing allows participants to freely surf on the water surfaces, whether it is rivers or lakes.
Li Ying explained that compared to traditional dopamine-inducing sea surfing, wave surfing is more stable and can be learned in a short period.
Yao Ming, a professional wave surfing coach in Nanning, said that the popularity is especially notable among youngsters.
"Many kids have joined our club's youth training camp for wave surfing this summer," he said.
Priced at around 2,000 yuan (approximately $274) per person, these camps are usually fully booked.
As summer fervor sweeps the nation, kayaking is also favored by outdoor sports enthusiasts. At the Nanning Yong River Sports Park, many young people brought along their family members to enjoy water fun and spend a joyful time together.
Endowed with ample water resources suitable for water sports, Guangxi has hosted events like the National Windsurfing Championship, the Belt and Road International Regatta, and the China-ASEAN International Canoeing Open.
As part of its vision, plans are underway for the National Water Sports Training Southern Base.
These initiatives seek to accelerate the development of water sports and its associated industry in Guangxi, positioning the autonomous region as a global sporting tourism destination.
Beyond Guangxi, China's coastal regions like Hainan Province and Qingdao City, Shandong Province, have emerged as domestic water sports hubs.
Industry experts anticipate a mutually beneficial relationship between water sports and various sectors. By offering tailored services to different demographics, new avenues for commercialization are expected to stimulate innovative developments within China's active sports market.