(ECNS) -- In a two-story dwelling in Shangri-La City, Diqing Tibetan Autonomous Prefecture in Southwest China's Yunnan Province, 86-year-old Zhuma Yangzong recalled her journey to the Tibet Autonomous Region with her guests.
It is her third visit to Tibet, but the high-rises in Lhasa and the bustling streets of Barkhor still leave a profound impression on her. Even more remarkable, the hotels in once remote counties along the road leading to Mount Kailash are now equipped with oxygen supply equipment.
Kailash, the summit of Mount Kangrinboqe, at an altitude of 6,714 meters, sits in western Tibet and is one of the four major sacred mountains of Tibetan Buddhism.
She praised the country's development, saying that life has improved a lot!
Zhuma Yangzong spent most of her life in the alpine pastures of Niru Village in Shangri-La City.
In the past, Niru, a hidden paradise, remained unknown to the outside world due to limitations in transportation and communication. For many herders like her, the thought of leaving the familiar homeland was simply unimaginable.
It wasn't until 1994, when Zhuma Yangzong was in her fifties, that she took her first step beyond Niru's boundaries to meet her son in Beijing. She walked two days to Shangri-La County town, then took a three-day bus ride to Kunming, the provincial capital, followed by a flight to Beijing.
The village's transformative sparks fell in 2013 when Niru was listed as a UNESCO World Heritage Site and hailed as the world's No.1 eco-village. Suddenly, the place she and her family have lived for generations began to flourish.
Tourists, attracted by its newfound fame, flocked to the village and brought additional income for the local residents.
With the rise in income and improved transportation, Zhuma Yangzong has traveled to Beijing, Tibet, Hainan, Sichuan, and other provinces and autonomous regions, as well as other cities in Yunnan Province. This is something she could never have dared to dream of in her younger days.
To fulfill her dream of visiting the sacred mountain, her children arranged an unforgettable trip for her -- a pilgrimage to the sacred mountain.
From July 30 to August 10, the 86-year-old embarked on her third journey to Tibet.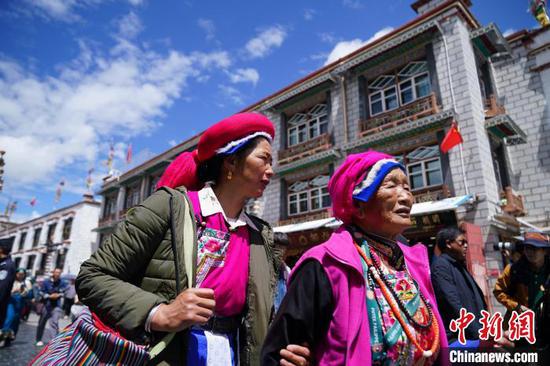 Zhuma Yangzong (R), 86 visits Barkhor Street in Lhasa with her daughter. (Photo/China News Service)
In front of the Potala Palace, the family gathered to take a photograph of the whole family to capture the precious moment. At Jokhang Temple, she walked around the revered building for three circles. Beside Lake Manasarovar, the renowned "Sacred Lake", the family hung prayer flags for blessings.
The impressive moment took place at the Chuku Monastery near Mount Kailash. Here, her children participated in the traditional Tibetan blessing ritual while Zhuma Yangzong offered a pure white khata, a ceremonial scarf symbolizing reverence, to the sacred mountain.
After descending from Chuku Monastery, Zhuma Yangzong sat on a boulder to take a rest. Gazing upon the formidable Mount Kailash, she remained immersed in serene silence.
In a heartfelt utterance, spoken in her native Tibetan tongue, she expressed gratitude for the bettered life, the convenient transportation, and, above all, the realization of her long-held dream.