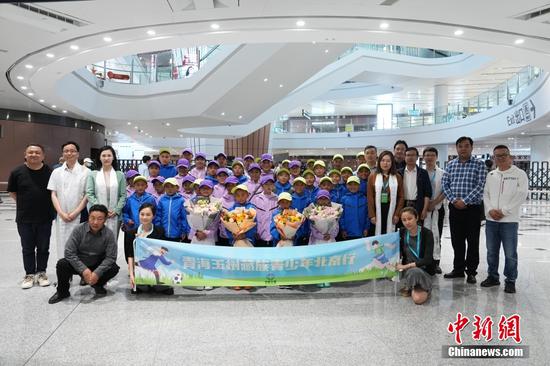 Fourty Tibetan teenagers arrive at the Daxing International Airport in Beijing, May 30, 2023. (Photo: China News Service/Cui Nan)
(ECNS) -- A group of 40 teenagers from Children's Welfare Center of Tibetan Autonomous Prefecture of Yushu in northwest China's Qinghai Province arrived in Beijing on Tuesday night for a 5-day visit ahead of Children's Day.
The children are curious about Beijing and have great expectations for the journey. The 10-year-old Dianzhou Songbao said he wants to visit the Great Wall most, hoping to scale the well-known historical site in the capital.
"I want to taste Beijing food, such as Beijing roast duck. I have heard that it is very delicious, so I want to try it myself," said Chenglai Wenmao, a seventh grader.
The five-day journey aims to enrich the children's vacation, enabling them to learn about the cultural deposits of Beijing and the country's development, and to broaden their horizons at the same time, said Gongque Qiuwang, head of the Civil Affairs Administration of Yushu Tibetan Autonomous Prefecture.
Anggong Tashi, head of the welfare center, said he hopes these children can experience the wonderful world outside their hometown and figure out their goals and directions for the future through the visit.
The five-day program was jointly hosted by China News Service, the government of Yushu Tibetan Autonomous Prefecture in Qinghai Province, and Beijing-based Youth Assistance Headquarters, and organized by China News Network.