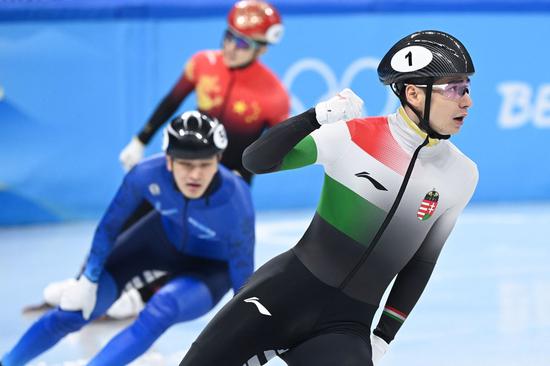 Liu Shaoang of Hungary completes the men's 500m short track speed skating semifinal at Capital Indoor Stadium in Beijing, capital of China, Feb. 13, 2022. (Photo/Xinhua)
(ECNS) -- The Hungarian National Skating Federation (MOKSZ) accepted Liu Shaolin's and Liu Shaoang's request to change nationality and gave up the financial compensation it had previously requested, said a statement released by the MOKSZ on Tuesday.
The MOKSZ praised and thanked the Liu brothers in its statement, saying their achievements deserved to be recorded in the country's sports history.
"We note with regret the intention of the Liu brothers to change countries and say goodbye with a heavy heart, and at the same time thank Hungary's first Winter Olympic champions, who indelibly wrote themselves into the sports history of our country, for the unforgettable successes achieved together," the federation said.
It views the legal relationship with the Liu brothers as being finished. "We wish Liu Shaoang and Liu Shaolin every success in their future careers," the MOKSZ wrote.
The Liu brothers submitted a request to the federation to change their country of residence at the beginning of November.
The Liu brothers were born in Budapest and have won many prizes for Hungary. At the 2018 Pyeongchang Olympic Winter Games in South Korea, the brothers led the Hungarian men's team to its first short track speed skating Olympic gold medal with a victory in the 5,000-meter relay final. The younger brother, Shaoang, maintained his winning streak by taking first place in the 500-meter race at the Beijing Winter Olympics in February.
The two skaters have been trained by Zhang Jing from China for many years and the elder brother Liu Shaolin has thanked the Chinese coach on social media.
The two brothers said that they have not decided yet which country they will join. But many people believe that China is an option for them.